CarMats.co.uk
CarMats.co.uk is a leading retailer of high-quality bespoke and custom car mats for all makes and models of vehicles.
As a start-up business, our SEO and digital PR team were tasked with developing and establishing CarMats.co.uk's link profile, reputation and site traffic with highly-relevant content campaigns and reactive PR.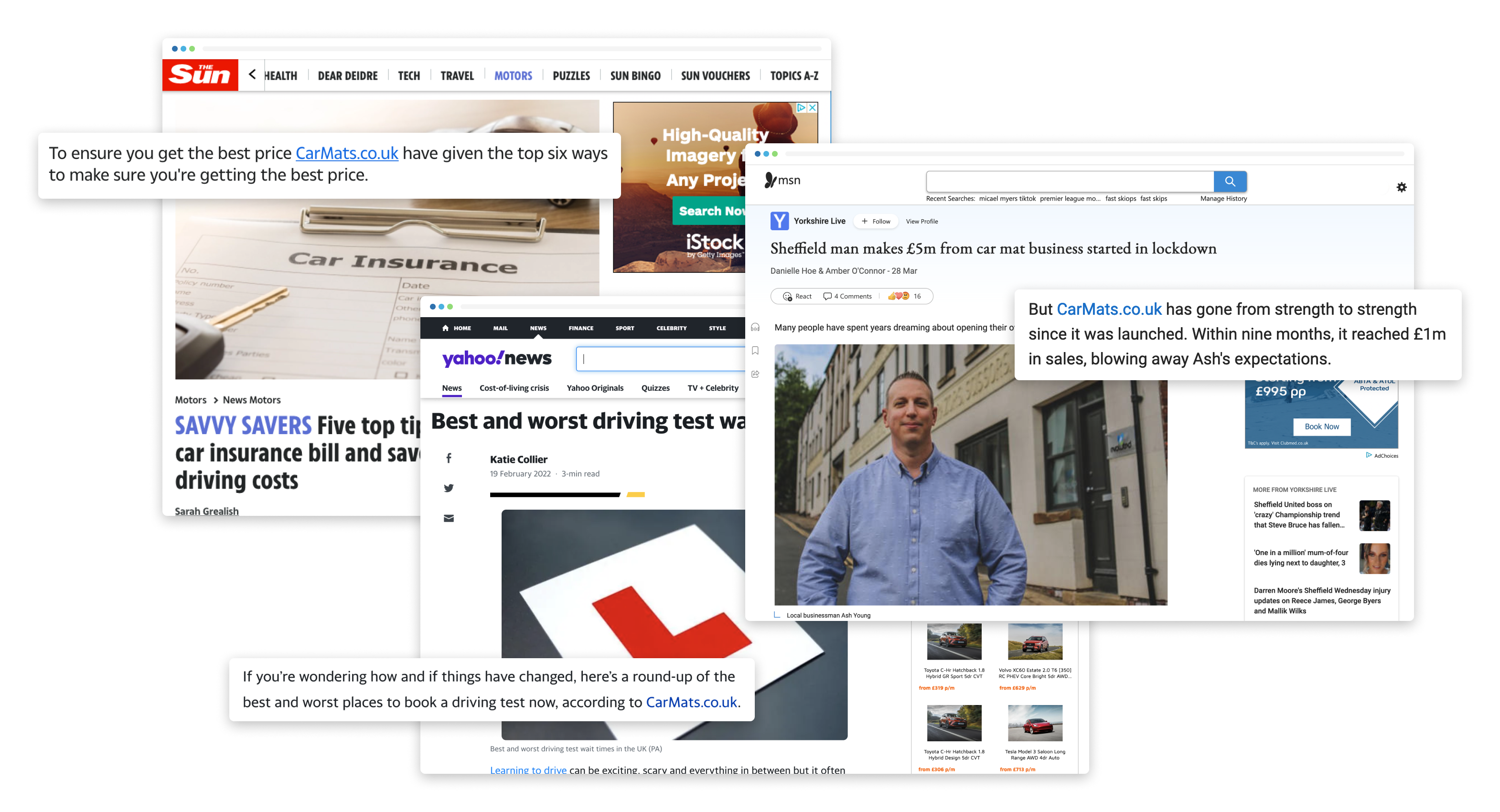 The Strategy
As a recently formed business, CarMats was at a disadvantage as it didn't benefit from years and years' worth of an existing, aged backlink profile. Compared to competitors who had earned backlinks from previous work.
In a bid to size up against competitors, we undertook a successful SEO and PR strategy to boost rankings and traffic, as our team knew that links were important to establish the site's trust. 
We created a digital PR strategy that gained valuable links and coverage for CarMats, from leading national news websites and high DA sites, such as The Sun, Yahoo, MSN and Grazia.
Our digital PR strategy consisted of large content campaigns and consistent monthly outreach efforts that included expert newsjacking and reactive PR. This cemented CarMats.co.uk as a trusted automotive source.
Driving Test Wait Times
The pandemic brought with it backlogs across society, unfortunately, the automotive world was no exception to extended wait times.
After seeing these driving test delays across the UK, we decided to investigate how bad the backlogs were in the most popular driving test centres in the country. We analysed and organised GOV and DVLA data to see which were the worst contenders and which had the best wait times. 
This generated key data for our outreach email including the centre with the worst wait time: Goodmayes (London) and the centre with the best wait time of two weeks, Kirkcaldy. 
Our well-planned outreach strategy targeted journalists and publications reporting on this, from this we built 57 links and coverage from target publications including The Sun, Daily Mirror and Yahoo.
Expert Comments and Reactive Outreach
Alongside our content work, we implemented a consistent monthly outreach strategy made up of 2 - 3 pre-planned and reactive stories. This tactic maintained a steady stream of links from publications including Grazia, Daily Express and Daily Mirror.