Four Years of Sheffield DM in Numbers and Favourite Talks!
This month's Sheffield DM event marks four years since the bi-monthly marketing meetup was launched in November 2018 by Evoluted's digital marketing team.
A lot has changed in that time - we've upgraded venues from the Sheffield Tap to the Showroom Workstation; expanded our format from one-talk affairs to three speakers/two speakers and a panel; and brought on board high-profile sponsors that have allowed us to take our events to the next level.
But one thing that's unchanged is the mission behind Sheffield DM. We wanted to build a marketing community in Sheffield where everyone from students to grizzled veterans could come to learn, share knowledge, network and promote local talent.
We also wanted to provide speaking opportunities to demographics underrepresented on conference line-ups - so we're proud that 60% of our speakers so far have been female, and we've given speaking debuts to a number of marketers who've gone on to talk at major events.
To celebrate the milestone, we've traced some of the numbers behind Sheffield DM's story so far and quizzed regular attendees, sponsors and organisers for their favourite talks from our four years of events.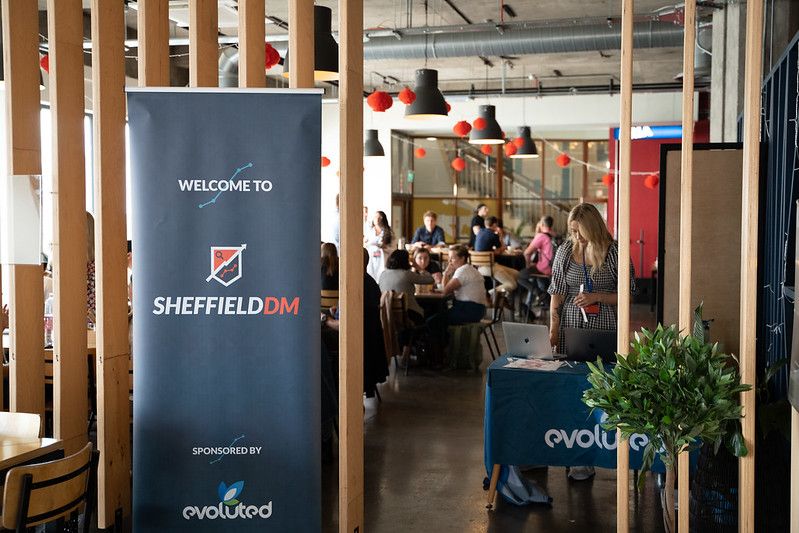 Sheffield DM in Numbers
25 events
Including our usual evening meetup format, lockdown virtual events and July 2022's Sheffield DM Goes Large all-day event.
51 talks & panels
Spanning everything from Digital PR to email marketing and TikTok to Google Ads!
63 different speakers
Our stage has been graced by big names from the world of SEO, PR and Content, local marketers and speaking debutants.
500+ unique attendees...
A melting pot of in-house marketers, freelancers, agency marketers, eCommerce Managers, business owners and more!
From 300+ organisations!
Including representatives from both the city's universities and Sheffield Council, to faces from a raft of top UK marketing agencies and major local and national companies.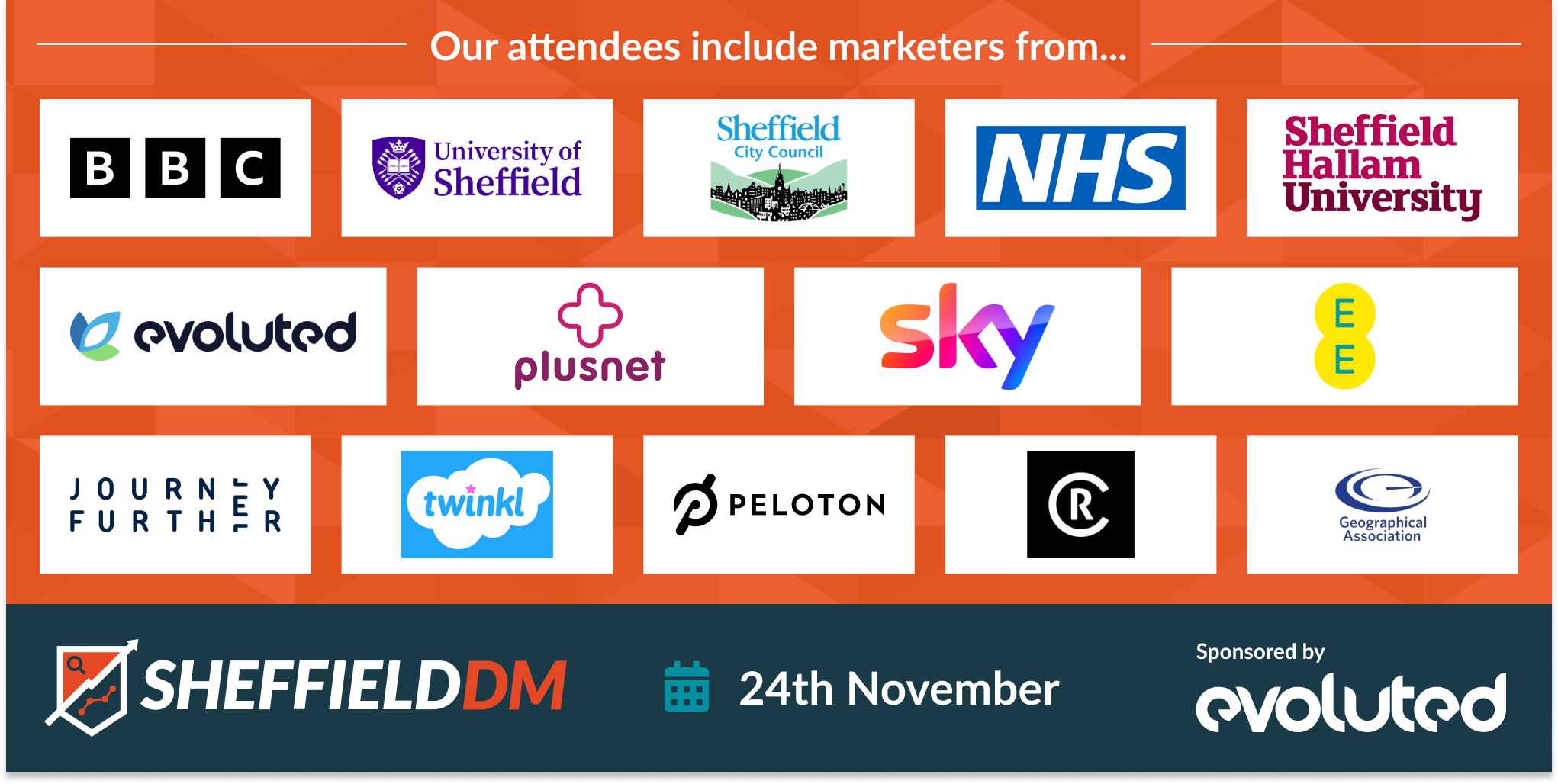 My Favourite Sheffield DM Talk
Sophie Gibson (Technical SEO Director, StudioHawk - Agency-side attendee)
Favourite talk: Byron Tassoni-Resch, "Leveraging Automation to Scale Paid Search for Deliveroo" (Sheffield DM #21, February 2022)
"It was super interesting to get an insight into Deliveroo's challenges of getting locations read to work across postcodes - as well as insights into a different field than usual," says Sophie.
Ellen Lavelle (Creative Copywriter, Twinkl - In-House attendee)
Favourite talk: Stephen Kenwright, "What is Digital PR?" (Sheffield DM #20, November 2021)
"Stephen was a great speaker and showed us examples of the campaigns he'd been a part of, which made his Digital PR talk really engaging."
Patrick Hathaway (Director, Sitebulb - Sponsor)
Favourite talk: Andi Jarvis, "The Science of Persuasion" (Sheffield DM Goes Large, July 2022)
"I loved Andi's keynote," says Patrick. "The topic was really interesting, Andi was super engaging and he did a great job getting the audience involved - I even got a free pack of sweets!"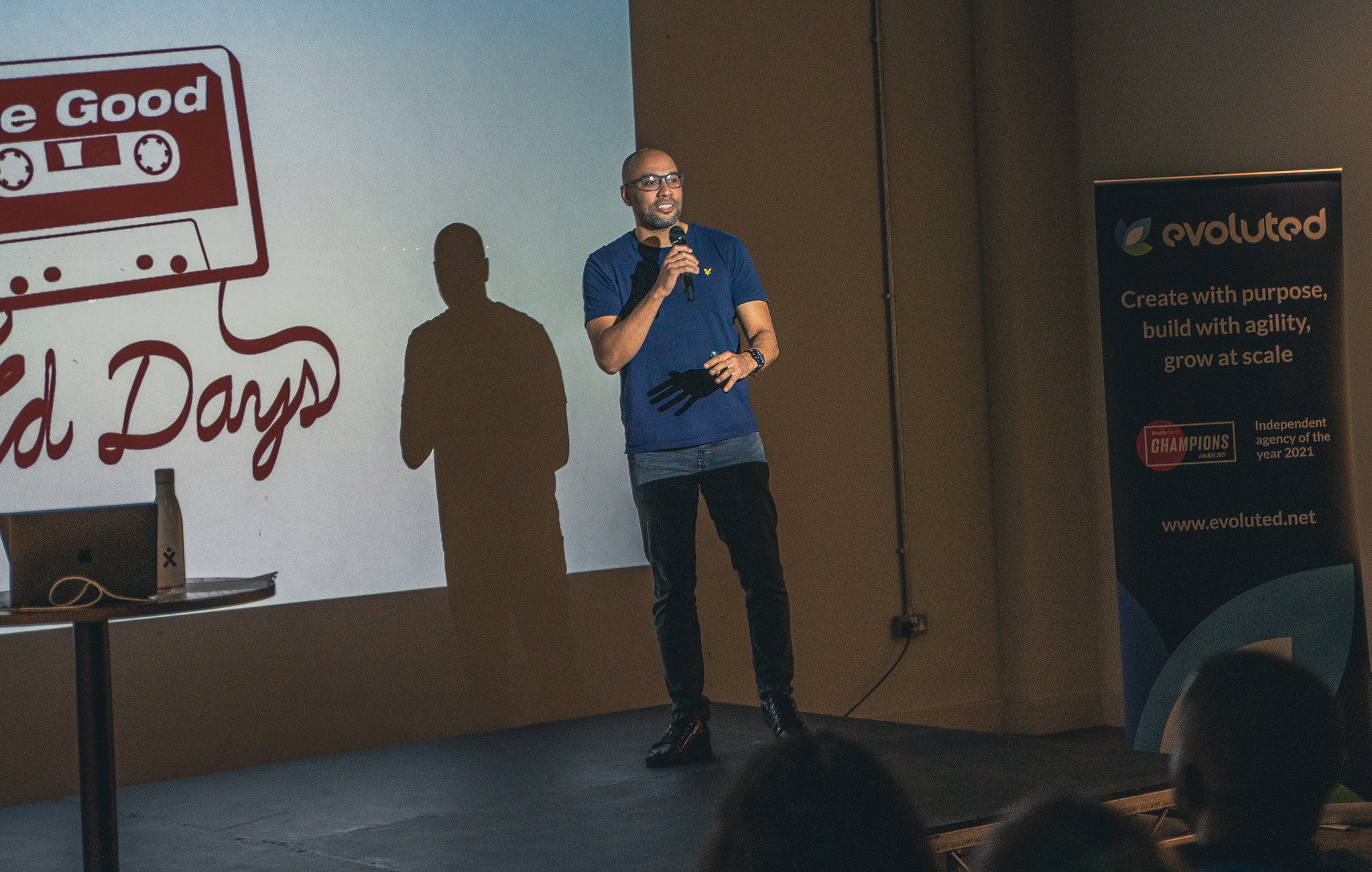 Dave Gardiner (Digital Marketer, Iterate - Freelance attendee)
Favourite talk: Agency x Client Relationships Panel (Sheffield DM #19, September 2021)
Dave especially enjoyed the presence of Irwin Mitchell's Tom Richardson on the panel, who represented "the client".
"It was good to get an honest insight into the client side of the relationship - my only professional digital marketing experience is agency-side and in those circumstances, even if you're the greatest marketer in the world, diplomacy and professional etiquette mean you're unlikely to ever hear truly accurate feedback from clients."
Nadea van der Merwe (Head of Operations, Wildcat Digital - Agency-side attendee)
Favourite talk: Katie Thompson, "The Golden Client Ratio: How to Shift Your Business for Sustainable Growth" (Sheffield DM #21, February 2022)
"It was useful to see the algorithms Katie applies to determine her top clients compared to what we do. Katie's algorithms were more complex and had a lot more variables for us to potentially adopt at a much later stage".
"Also I'm a spreadsheet person and it was quite data-driven, which I enjoy!"
Declan Reilly (Head of SEO, Evoluted - Organiser)
Favourite talk: Edd Wilson, "User-Centric Technical SEO: How to Make Website Structure Work for Users" (Sheffield DM #6, November 2019)
"I remember being really impressed by Edd's talk. It was great to see how he communicated what could be seen as a boring or confusing topic in such an expert and engaging way."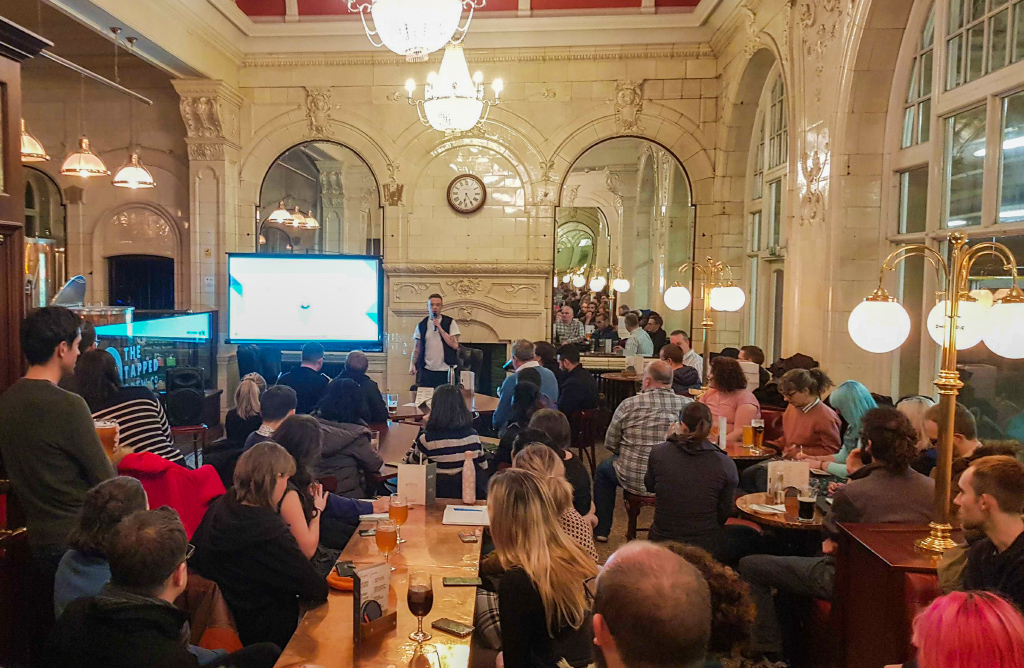 Marley Rollins (Senior Email Marketing Officer, Samaritans - In-house attendee and former organiser)
Favourite talk: Laura Stead, "How to Make Marketing Rewarding Beyond Financial Gain" (Sheffield DM #21, February 2022)
"Laura's talk felt different to typical marketing talks and had lots of actionable ways I could use my skills to make positive change. I came away raring to go and feeling like I wanted to make more of a difference if I could!"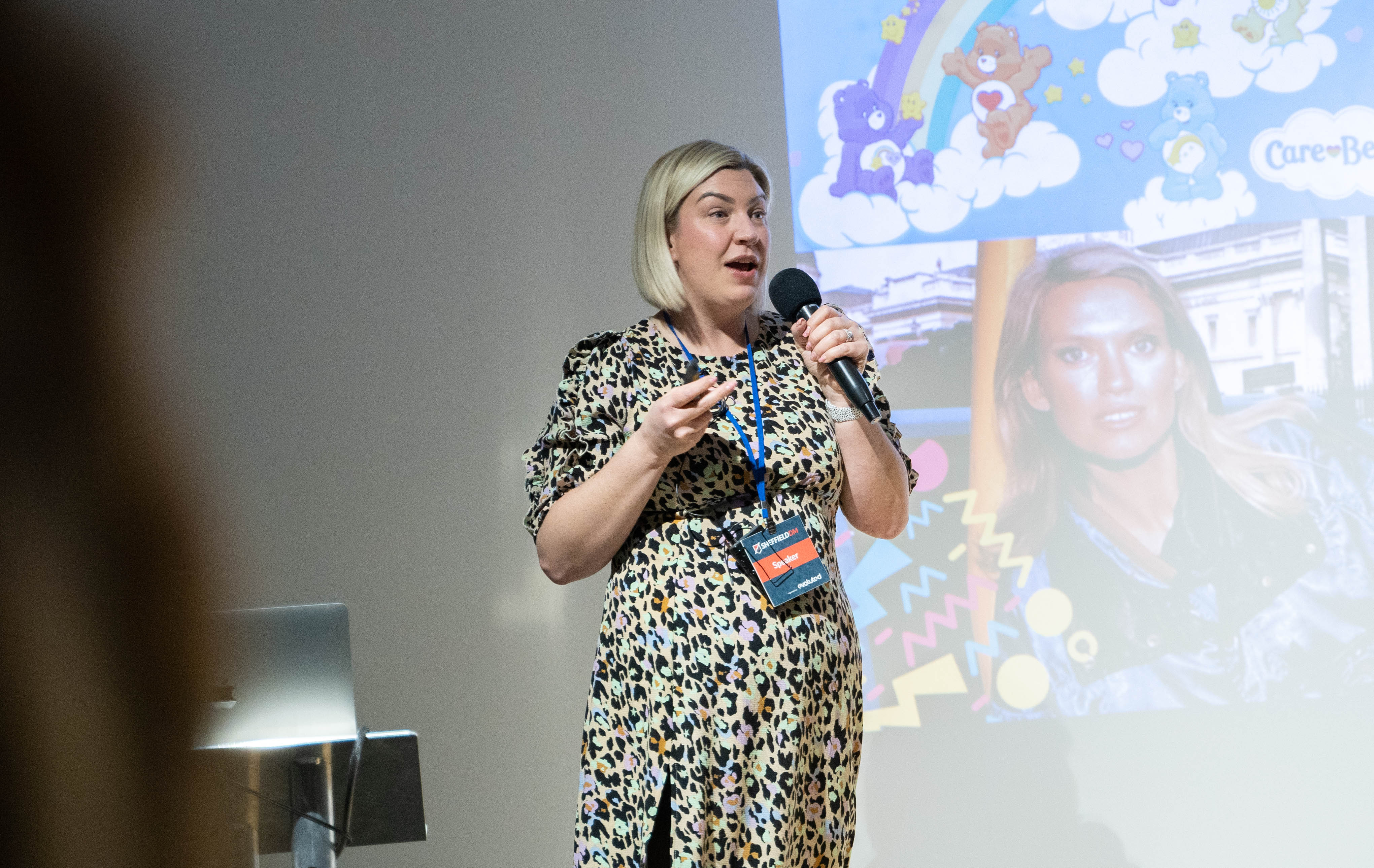 Dan Rawley (Marketing Manager, Evoluted - Organiser)
Favourite talk: Jazveena Sahota, "Brands are Killing it on TikTok, What the Tok is Going On?" (Sheffield DM Goes Large, July 2022)
"I love the talks about marketing disciplines I'm not familiar with. The best Sheffield DM talks are the ones that save you a job - I'd been meaning to some PPD on TikTok marketing but Jazveena's talk gave me the same information in a much more engaging way!"
Jazveena's enthusiasm and practical examples really showed what good TikTok marketing strategies look like."
Karim Adib (Digital PR Executive, The SEO Works - Agency-side attendee)
Favourite talk: Straight-Talking Digital PR Panel (Sheffield DM Goes Large, July 2022)
"It's always well and good hearing people talk about the industry on Twitter, but being able to have a two-way conversation with very experienced PRs had another level of insights."
"I'm a huge fan of the speakers' work so it was great to hear them in person."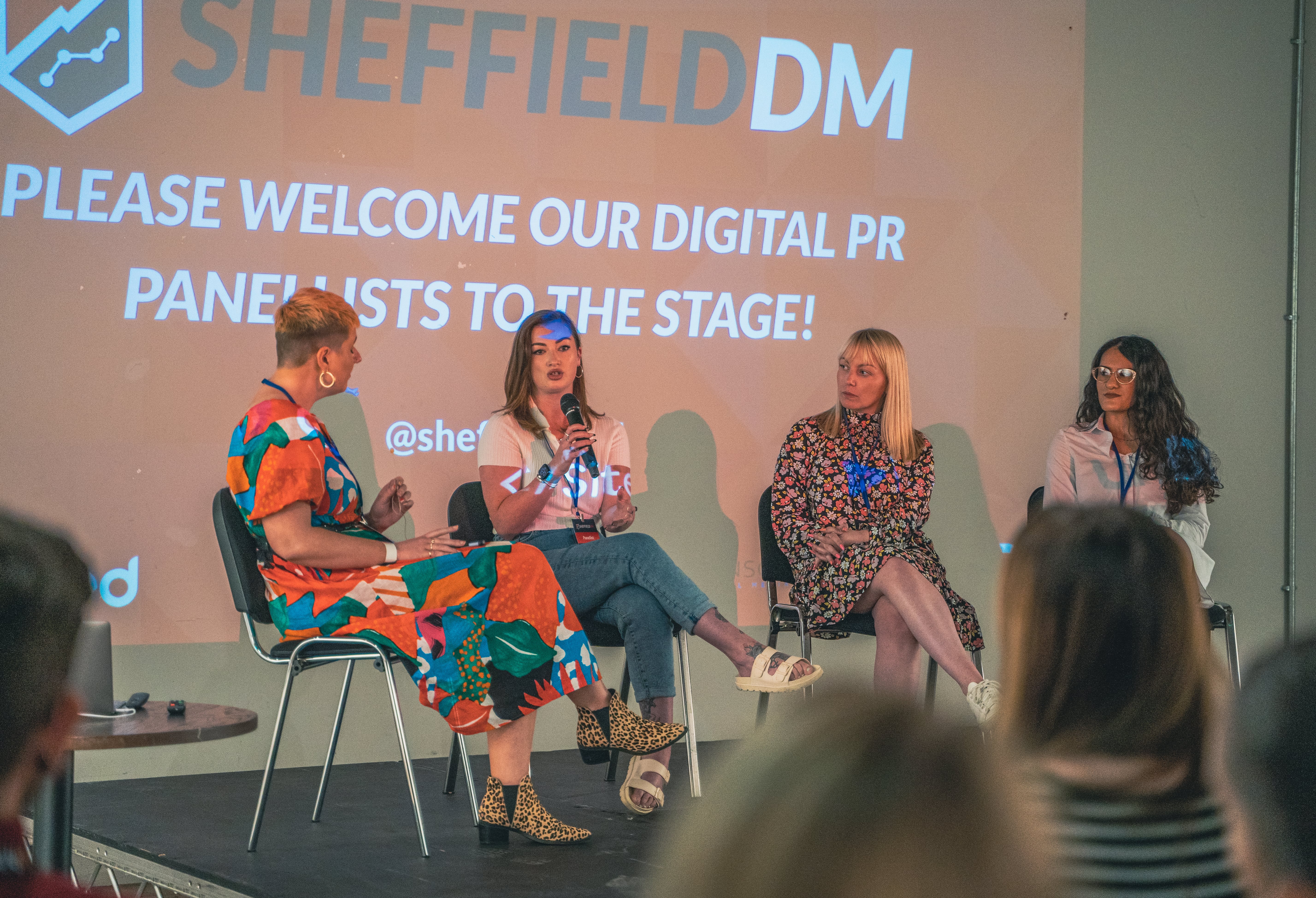 Ash Young (Founder, Evoluted and Carmats.co.uk - Organiser)
Favourite talk: Andy Naylor, "Creating an Effortless Service Culture to Increase Customer Loyalty" (Sheffield DM #2, January 2019)
Ash has been involved in organising Sheffield DM since day one and has returned to our second-ever event for his favourite talk.
"Andy's talk was packed with insights into how Raleigh had improved their customer experience which were applicable to all businesses and have stayed with me ever since!"
Liam Taft (SEO Team Leader, The SEO Works - Agency-side attendee)
Favourite talk: Amanda Walls, "Creating an Effective SEO and Digital PR Strategy Using Your Money, Your Life Principles" (Sheffield DM #23, September 2022)
"Amanda tied a thread between the tactics of the past and what works right now. I came away with lots of useful advice and feeling inspired to create great content."
"I now feel more confident in convincing my clients that we should be focusing on expertise and reputation in their SEO strategies," Liam adds.
Emma Straw (Digital Marketing Specialist, East Midlands Chamber - In-house attendee)
Favourite talk: Andi Jarvis, "The Science of Persuasion (Sheffield DM Goes Large, July 2022)
"I really enjoyed Andi's talk - it was concise but still in-depth and it clearly defined marketing strategy. It gave plenty to think on, especially as regards scarcity in marketing."
Here's to the Next Four Years!
It's been amazing to see attendances grow at our events over the years. "We've built a strong core of regulars - we wanted to create a Sheffield marketing community and we've done exactly that," Evoluted MD and Sheffield DM host Giorgio Cassella told UnLTD Magazine this month for their feature marking our milestone.
With more high-profile sponsors, collaborations and format improvements in the works, we've got big plans for Sheffield DM next year - watch this space!
To keep up with the latest event news, follow Sheffield DM on Twitter or through our Eventbrite page.
And if you're looking for support from the award-winning digital marketing agency behind Sheffield DM, our team can bridge the gaps in your digital strategy to ensure each of your channels are working together to deliver growth. Contact us today to supercharge your online presence and grow at scale.