OriGym
OriGym is one of the UK's leading providers of health and fitness courses, specialising in nutrition, personal training and yoga. 
As an SEO client, our team was tasked with improving organic sessions and generating new enquiries through organic search results. This meant conducting an in-depth investigation into the website's SEO functionality, authority and content offering.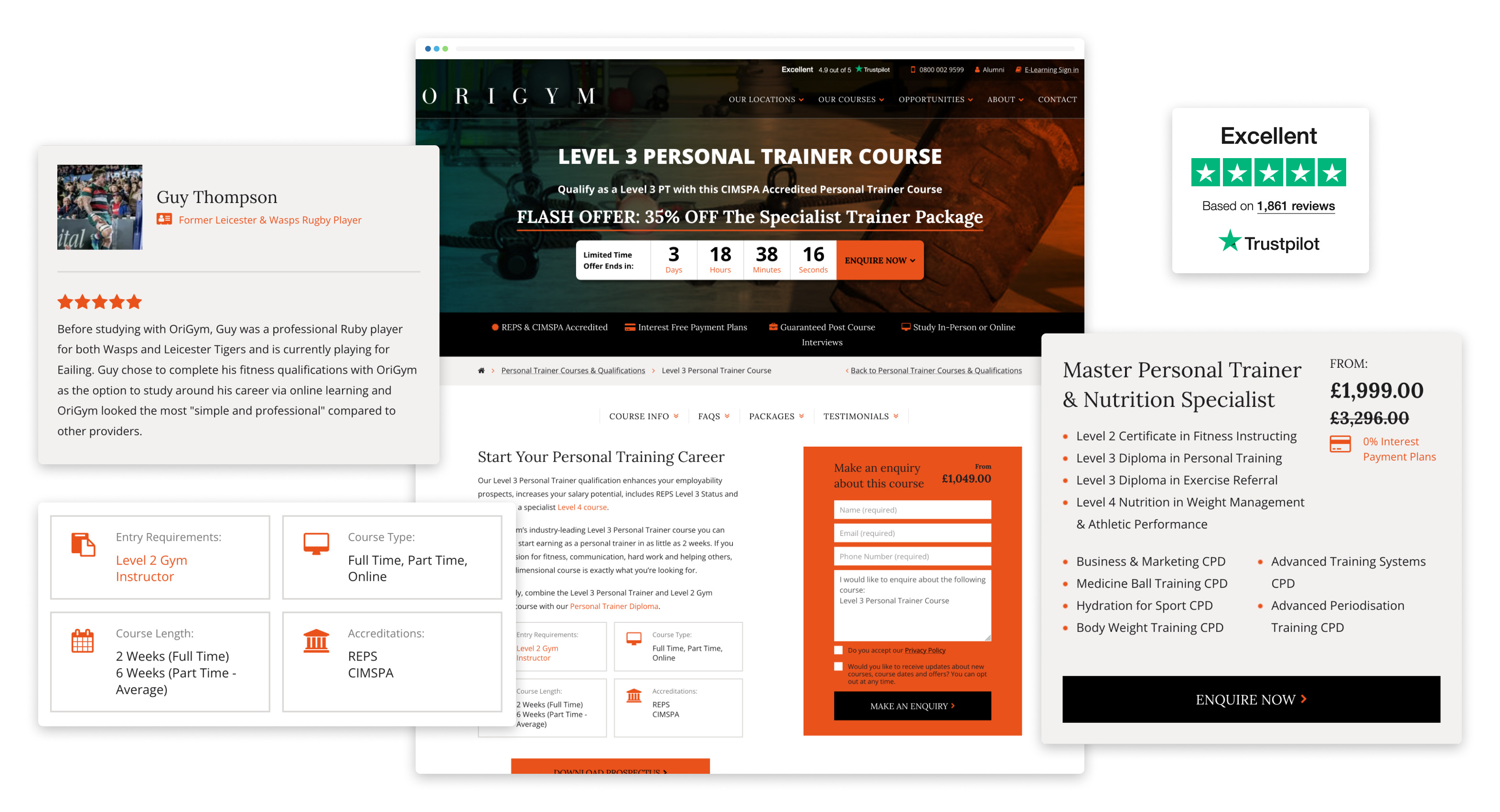 The Strategy
By combining technical SEO efforts with a considered content strategy we were able to uncover technical issues, understand how their audience searches and fill gaps to support visibility.
Conducting technical SEO and content audits gave us a clearer picture of technical issues and content gaps. These then presented opportunities to improve website functionality and authority while translating audience habits into technical fixes, improved user experience and content creation.
The Results
413%

increase in organic sessions

34.5%

increase in enquiries

35%

increase in revenue YoY
Technical SEO
Developing an improved site structure enabled us to consolidate unnecessary pages and introduce hub pages to improve UX and navigation, categorising courses together for easy comparison. We also introduced location-specific pages to target local terms and enhanced internal linking with the introduction of breadcrumbs and natural links from organic content to money pages. 
Our initial audit highlighted issues with load times, accessibility, mobile functionality and linking structure. We improved load times by introducing 'lazy-loading' and deferred scripts, streamlined tap targets for mobile functionality and improved UX elements such as 404 redirects for improved accessibility.
Content Strategy
Addressing onsite content we introduced new page templates on money pages and blog pages to improve navigation and increase the amount of useful content on each page. These templates also featured areas for testimonials and student reviews, introducing the benefit of social proofing. We optimised the copy across key money pages after conducting thorough keyword research and mapping while working internally with the OriGym team to match their language and tone of voice. 
We also devised a blog strategy that identified overarching topics, creating a cluster of specific article ideas which were turned into long-form content pieces. We collaborated with their in-house experts, ensuring authoritative input, authentic tone of voice and consistent language throughout considered pieces that enhanced organic reach.