It's been an absolute whirlwind of a year at Evoluted, and it's hard to believe that as I write this we're just a few days away from Christmas!
After an "unprecedented" (sorry) couple of years, I think all of us had hoped for a return to some sense of normalcy in 2022. But with a slew of huge shifts in not only our industry, but the wider world, that whirlwind has turned itself into a bit of a tempest - the ultimate results of which are yet to come.
But as we exit the year, there's a host of great successes to reflect back on as an agency and many more to look forward to in the years to come.
So let's unwrap what 2022 held for the team at Evoluted:
Top-Line Goals
Business Goals
Launch the Evoluted Rebrand

In October we successfully launched a holistic brand refresh, encapsulating our updated branding, culture, business focus, personality and much more. ✅

Delight our clients and benchmark satisfaction rates for the future

`This year we focused on launching a quarterly NPS survey to all clients setting a target of 8/10. And we absolutely smashed this, with reports coming back with an overall score of 9.4! ✅

Grow Sheffield DM's reach and influence

With Search Leeds leaving a gaping hole for great marketing events in the North, we set a goal of transforming our Sheffield DM event from a local meetup into something grander. This summer we hosted a sold-out full-day conference and proved the value of bringing a much bigger marketing presence to our part of the UK. ✅

Financial Goals
Achieve 26% revenue growth on 2021

An overarching aim as a business is to reach £5m annual revenue by 2026, reflected by ~26% YoY growth. Amidst a tumultuous year with lots of time and financial investments into areas to support future growth, we didn't quite achieve this in 2022, but saw outsized successes for our income from marketing retainers which grew by near-on 40% this year. ❌

Drive greater revenue through retainer-based contracts

Working with fixed-cost projects is hard, and as a full-service agency whose unique value comes from ongoing cross-service delivery we set a target to move a significant proportion of our billings onto recurring retainers. We now have ~75% of our client-base across all service areas on recurring retainers. ✅

Increase minimum deal values

A core element of our growth strategy involves developing the value of new deals, enabling us to take on more complex projects and grow the business through quality over quantity. Stepping-up our minimum contract criteria we've successfully brought on a range of brilliant new clients with a greater allocation of resources to deliver our very best work yet. ✅
Team Goals
Benchmark, measure and enhance employee happiness

Our team has always been open with us about how they feel about Evoluted as an employer, but we recognised the need for more robust methods for measuring this. Introducing a weekly ENPS measure combined with regular anonymous feedback surveys and happiness & wellbeing reviews, we've benchmarked a superb 8.2/10 ENPS to build upon in years to come. ✅

Introduce greater transparency to the agency

As most companies progress from the 25-person to 30+ headcount, they hit an inflection point where company details become a bit more opaque as they lose access and communication with others. Recognising this, we made a concerted effort in 2022 to introduce greater transparency and communication across Evoluted through multiple away-days, quarterly financial reports and regular Slack and video updates. ✅

Rebuild our People offering in-line with the refreshed brand

Alongside launching our updated branding, we modernised a number of our employee-facing elements too - introducing new contracts reflecting our flexible, remote-first approach; a new employee handbook with detailed policies on our benefits, ways of working and more. ✅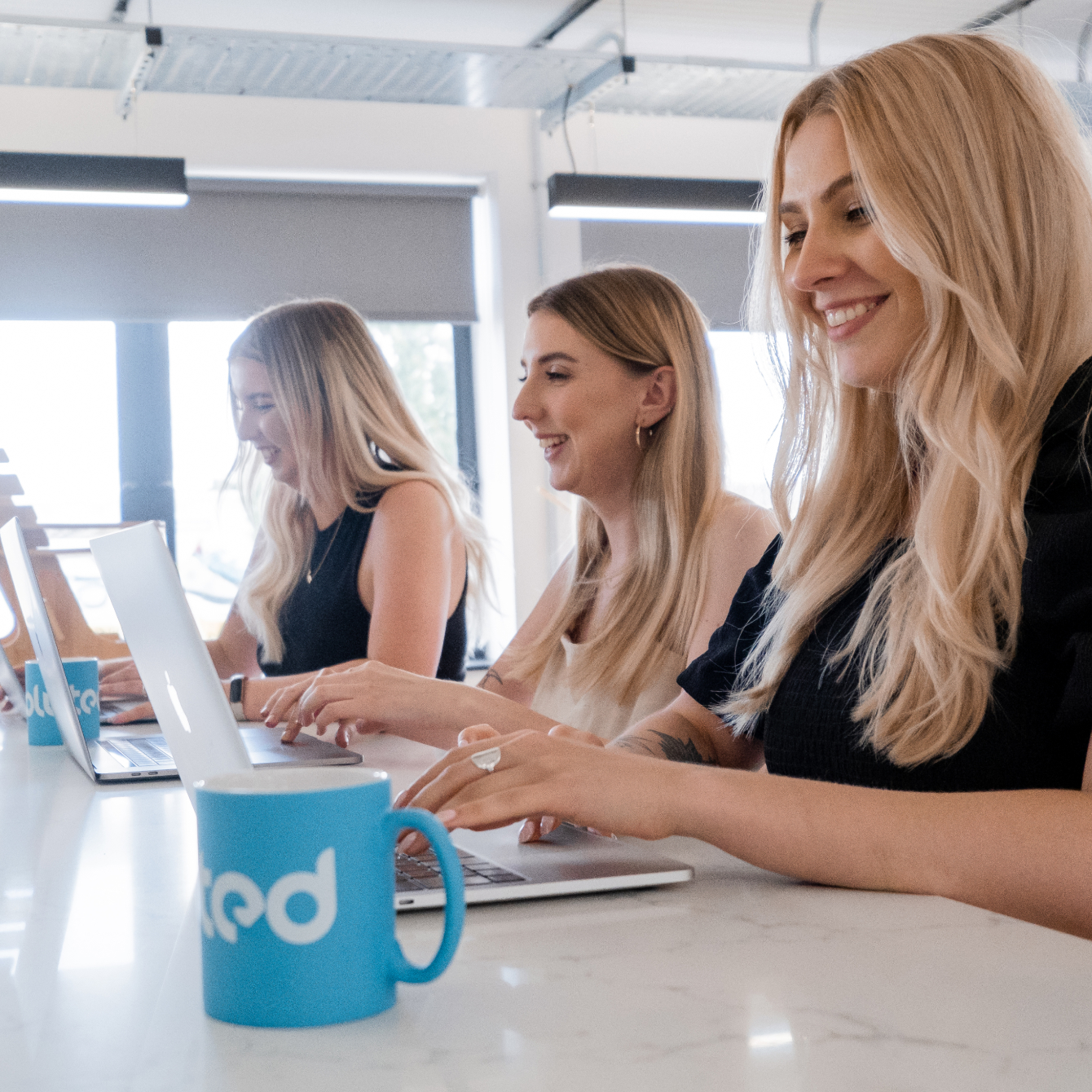 A Year in Review
Rolling out the content marketing machine
One of our chief pushes this year has revolved around producing and sharing a greater variety of content created by our internal teams, demonstrating our expertise and sharing their knowledge with the world.
Some of the highlights include:
The level of content being produced has truly stepped up this year, with our PR pieces landing links across the world with top new outlets, our Twitter content driving thousands of impressions and engagements, and generally driving great brand awareness and exciting new leads into the agency.
It's something we'll 100% be continuing to expand into next year, with some interesting new formats being planned and potentially even our own in-house production studio…
Bringing home the silverware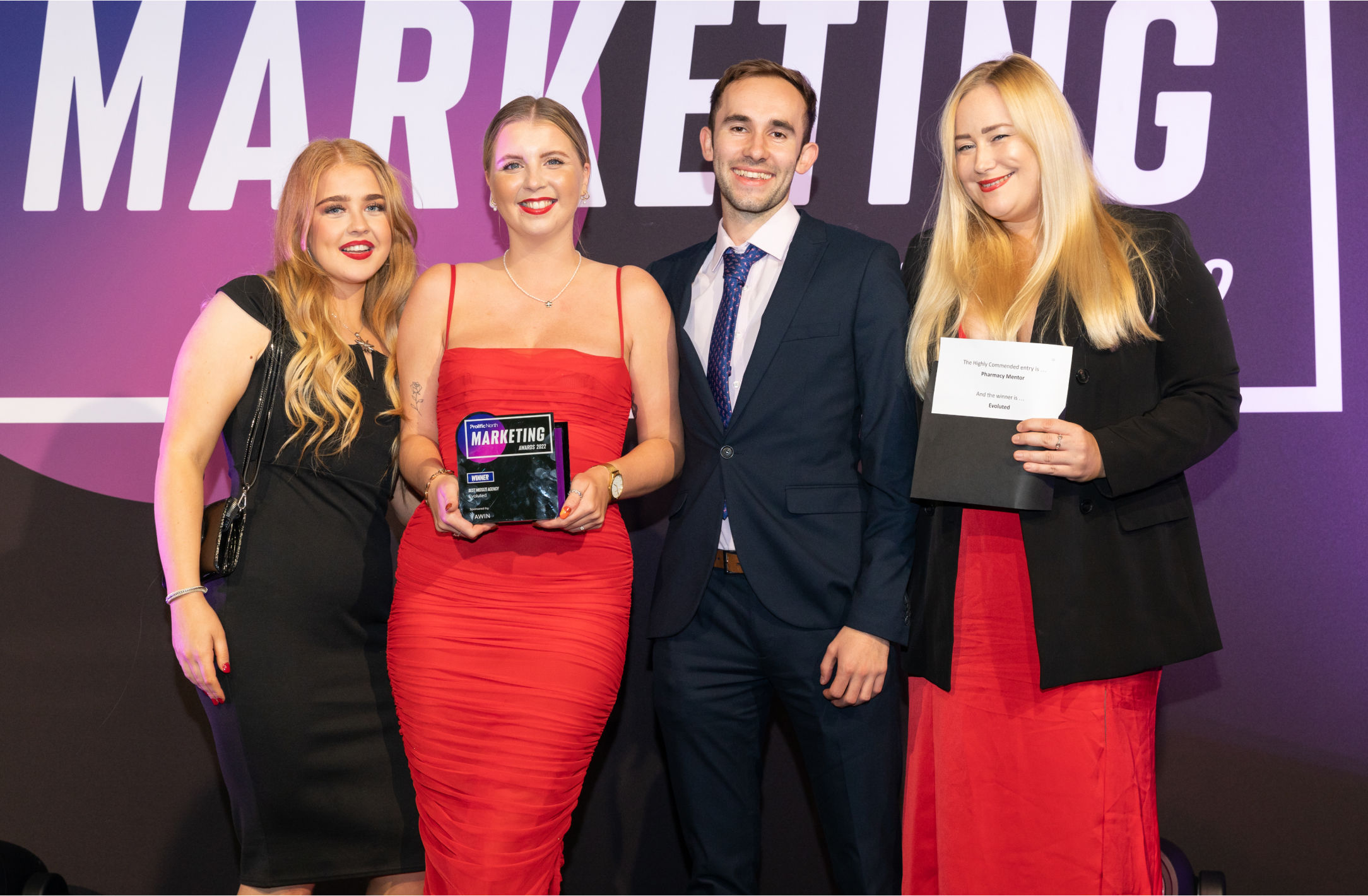 After a (literal) award-winning year in 2021, we stepped up our game to continue the awards hype with the ultimate goal of collapsing the boardroom shelves under the weight of all those shiny trophies.
February saw us scoop 4 excellent awards celebrating the work from our Web Team including Large Development Agency of the Year. It would be nice if they held these awards in person next year though, not all developers are basement dwellers!
In May we saw a double-bill of awards, with teams in Manchester and Barcelona nabbing trophies at the Prolific North Champions and European Search Awards. Wildly, it was around the same temperature in both locations!
And finally, September was a good month for the SEO and Content teams, being awarded two trophies at the UK Agency Awards for SEO Agency of the Year and Best SEO Campaign; as well as our wider team picking up Best Midsize Agency at the Prolific North Marketing awards.
All of this came amidst a HUGE number of amazing nominations across all of our service areas and being pipped to the post by some other excellent agencies with plenty of friendly competition and some great nights out at the ceremonies.
Soft-launching our refreshed and repositioned brand
Evoluted launched 16 years ago this year, way back in 2006.
To give some context to what the internet looked like back then, this was a world where YouTube existed only to share home videos and driving to a Blockbuster was how you "streamed" the latest movies.
Since then the agency has grown from strength to strength built on passion and a deep desire to succeed through helping others succeed; but we recognised we needed a bit of a facelift and an update that presented externally what we all intrinsically knew internally.
Moreso, this update represented an inflection point on our journey, a point of growth and evolution giving a tangible manifestation to the mindset shift we've had as an organisation and have been slowly implementing over the last few years.
Our rebrand simply formalises everything we've  been working towards for so long together; blending:
A tighter, more refined visual identity that fits into the modern landscape but still sets us apart

A clear mission statement and purpose, setting our direction for the coming years

Our values as an organisation, as teams and as individuals ensuring we always live up to what we stand for

A defined tone of voice reflecting our culture and personality as the eccentric and talented bunch we are

A rebuilt website with new technologies and combining our teams' expertise with a truly collaborative effort spanning the whole agency

A series of unified assets spanning web, print, social and beyond for a truly omnichannel and omnipresent approach

There's lots more to come when we hard-launch in the New Year, but I'm incredibly excited about the new branding and how we're going to be positioning Evoluted within the agency world over the coming years.
Empowering our Cultural Officers
"Culture doesn't just help attract amazing people, it amplifies their abilities and helps them do their best work" - HubSpot co-founder Dharmesh Shah.
Seeing many inspiring and motivated new people coming into the agency, we launched our "Cultural Officers" scheme; assigning 4 groups across the agency with the responsibility to assess and drive forward different elements of our culture: social events, CSR, DE&I, and Happiness & Wellbeing.
These positions are open-to-all and empower individuals to effect powerful change, ensuring Evoluted's culture is led "bottom-up". They also provide another support option for staff outside line management.
Honestly, there are still some teething issues as we look at budgets and learn how to give guidance to these roles without overstepping, but the impact they've had already is enormous.
Client wins and growth
Over the past year we've had the pleasure of starting work with a host of exciting new clients at Evoluted across our design, development and marketing service offerings. 
Alongside this we've seen existing clients double-down their investment with us to expand into new services with Evoluted, like development clients exploring new marketing channels; and to increase our capacity to continue building their businesses with us such as SEO clients starting monthly development retainers in order to implement technical updates and new features faster than ever.
Critically, this growth comes from clients buying into our full-service offering as an agency. The agility with which Evoluted can deliver new work through an integrated and highly-communicative team - supported by the right technologies - is unmatched. 
Single points of contact, flexible solutions-focused services, and an aligned agency partner are key value propositions for many of our clients who've become tired of managing multiple disparate agencies who fail to speak to and understand one another.
Team growth
We've been lucky enough this year to welcome a number of brilliant new team members to Evoluted, increasing our headcount by 10% to break the 40-person mark! 
While the majority of our hires have enhanced our web and marketing delivery teams, some of our hires have come from investing in critical new roles to assist in reaching the next level of our growth, including a dedicated Marketing Manager leading on our internal marketing efforts and our Executive Assistant, supporting the directors and handling much of the logistical and people elements of the agency.
Doubling-down on our people-first commitment
People, over profits.
Our mantra remains unchanged as we enter a new era for Evoluted and in 2022 we made a number of key decisions which would continue to develop this people-first approach.
New parental leave schemes providing greatly enhanced leave and pay opportunities, including up to 24-weeks paid time off for new parents on top of statutory pay have been designed to give greater support to employees looking to start or grow their families.
A new work-abroad policy expands our remote-first approach and has seen team members work from Cyprus, Morocco and beyond as they attend key family-events and take on new adventures; without the worry of burning through annual leave.
And perhaps providing the greatest impact this year, our cost-of-living pay enhancement launched in July - giving every employee £2000 extra across a 12-month period, regardless of their employment status or time-basis - to tackle rising fuel and energy costs.

Expanding our Growth Framework

Back in 2020 we launched a new method to assist our teams in understanding progression opportunities at Evoluted, the routes they could follow to build their careers, and an understanding of precisely how to get there.
After 5 incredibly successful iterations of this new way of working in early-2022 we took this to the next level, building our own bespoke software to manage the process from end to end.
Flourish now helps us transparently, equitably, and without risk of managerial bias, conduct detailed performance reviews twice a year. 
Using a 25-point matrix to assess skills across technical expertise, culture, teamwork, strategy and culture; team members and their manager each complete an independent review of their past 6-months performance before coming together to discuss each other's results, log real-world examples of how competencies are being displayed before agreeing on a final "level" for the employee. 
Levels are then tied clearly to salary bandings, job titles and progression opportunities across both IC and management roles.
Even more helpful, the final output comes in a useful visual, called the Radial, which identifies SWOT areas on a per person, per team and company wide level.

Operational Improvements

Finding balance with resource allocation
Our industry is notorious for overworking and destroying any resemblance of work-life balance so as a "people-first agency" we have spent years going against the grain to make sure our team has a life outside of work.
 This year we have given some careful thought on how to keep workloads manageable and remain profitable as a company to secure our long-term success from which we have orientated our budgets and finances for the rest of the year. 
For us as a company where >75% of our costs are staffing the magic number is somewhere between 50-60% utilisation per fee-earning employee. This is significantly below some industry benchmarks, but gives the team time for administrative work without stressful overload and more importantly for personal development as well. 
Developing more robust financial operations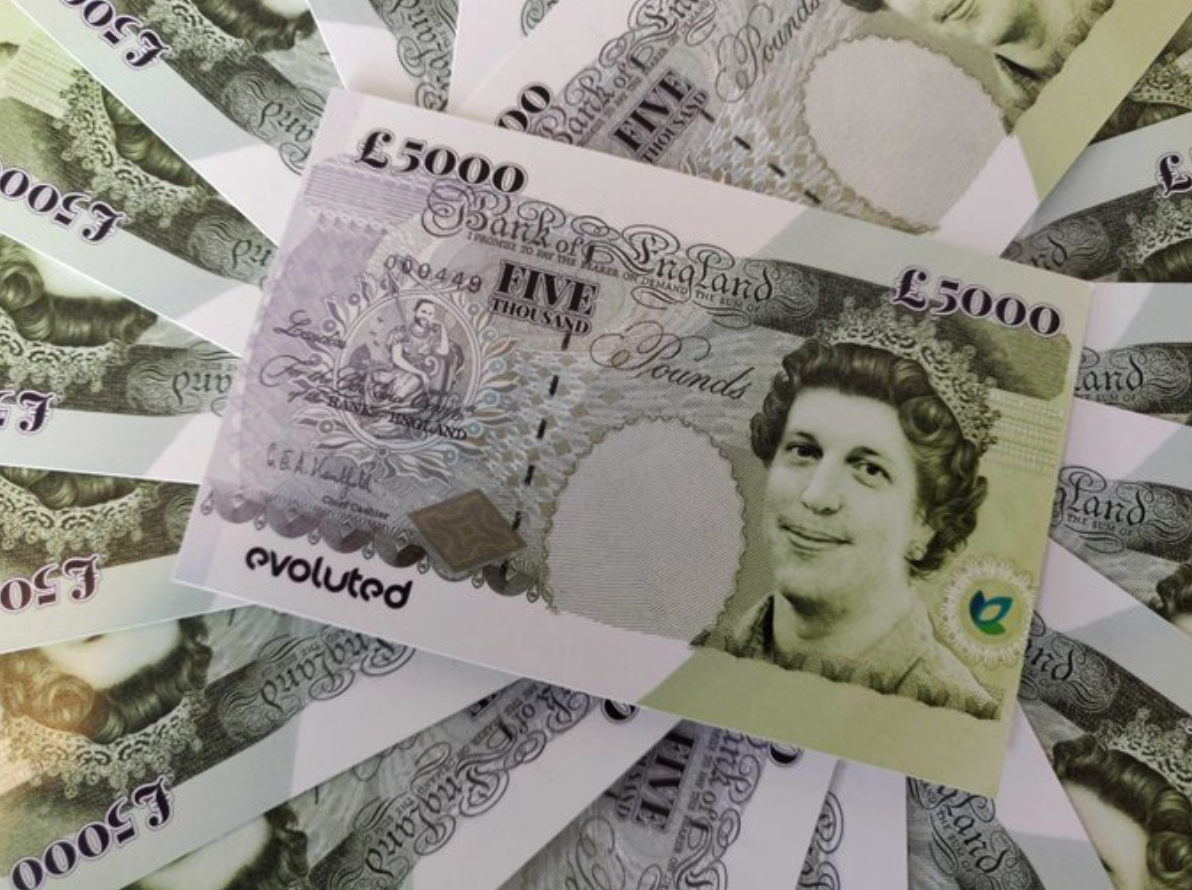 At our company-wide Finance Away Day back in April we wanted to be more transparent about how Evoluted operates so we lifted the lid on how our finances worked, we even created our own Evoluted currency!
For Evoluted performance is about much more than the money we make, so in developing our measures of performance it was important to ensure they reflected this by giving a more balanced view.
We focus on 5 core metrics:
Hours Utilisation - Percentage of time spent on client work - we aim to spend between 50-60% of available hours on client work. Expecting the team to spend their entire day on client work is unrealistic and leads to overworking to fit in other tasks.

Utilisation Rate - Percentage of time we were paid for. If we do the work we want to be paid for it, so the aim is for this to mirror the Hours Utilisation.

ARPE (Average Revenue Per Employee) - This is calculated as "Total Revenue / Headcount" - as with all our stats we don't calculate down to the individual because it is about team effort.

ARPFEE (Average Revenue Per Fee Earning Employee) - Very similar to our ARPE but focuses on just those who are fee-earning.

Effective Hourly Rate - We bill our time out at £100/hour but work can often overrun so this metric shows what we actually got paid per hour we worked on account.
It was great to be able to spend a day having open conversations about our finances and helping the team understand how we make money and how we re-invest our profits into the team. 
As the year has progressed we are opening this data up further as financial dashboards which are broken down in more detail, giving everyone a better understanding of the business so we can improve together.
Introducing the Evoluted SMT
Towards the end of the year we had grown to a headcount of 41 people and it was time to form Evoluted's SMT (Senior Management Team).
Bringing leaders together from the different disciplines of the company will enable us to maintain alignment on important issues and ensure we are making decisions based on voices from across the business as we continue to grow through 2023. 
Financial Performance
We have spent a lot of the year talking about being more transparent about our finances so why stop now.
Playing defensively and investing a herculean effort into our rebrand and increasing our headcount with support team members to improve our service offering has meant less time on client work and increased costs. In turn our profits have, as expected, taken a hit this year.
All things considered though we still see this year as a huge success. Changes made during COVID have finally caught up with us and yet we have still had a profitable year, continuing to grow our team and revenue, all while making a series of strategic moves designed to drive outsized returns in the years to come.
2023 and Beyond
With the whispers that 2023 is going to be another "unprecedented" year of recessions we are naturally focused on getting our ducks in a row, but for us that doesn't mean keeping our heads down and waiting out the storm.
We have good cash reserves in the bank and a team raring to launch into the new year with a bang. This last year has been all about shoring up our foundations and working out what defines Evoluted through our rebrand so next year we can focus on sustained, measured growth with our existing clients and new opportunities.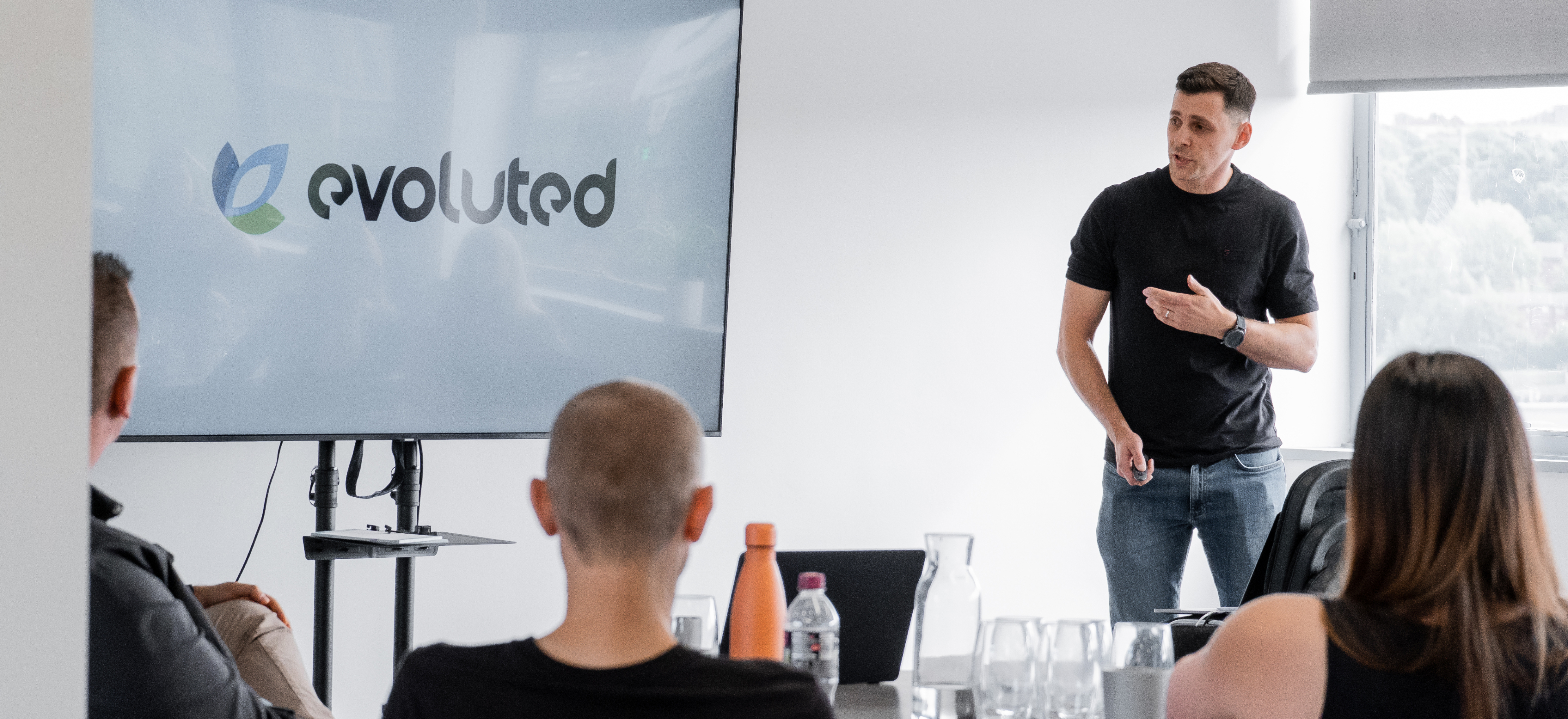 Recession-proofing
Recessions are difficult for many companies and often the marketing budget is the first to go. They can also be great for some industries that see huge growth during recessions.
Through our determination to buck the industry advice of "niche-down on one service and industry" we are in a great position of having a wide-spread of clients across our services and different industries. As some of our clients might pull back others will look to double down.
Focusing on full-service
We have had many conversations with clients and industry professionals over the last year about being a "full service" agency and while it sometimes comes with the stigma of "jack of all trades, master of none" we are ready to show that it doesn't have to be that way. Each of our services has won some amazing awards this year while going up against service specific agencies and in-house teams. 
Our clients are discovering the advantage of being able to lean on different perspectives and areas of expertise from one company and using us as an extension of their teams.
We always look for clients that we can have long-term partnerships with and deliver outsized value and through operating as a full-service agency we strongly believe we can do this through combining our expertise.  
Becoming a B-Corp
We want to have a positive impact on the world and are always looking for ways to do so, and B-Corp certification is about making companies a "force for good".
The B-Corp values align closely with Evoluted and have been on our wishlist for a couple of years, yet with others saying how difficult it was to complete we had been delaying it.  
After an initial assessment we meet about three-quarters of the criteria needed for the certification, so there is still work to be done in the next year to get us ready and certified but it's a very strong start for us on the journey to certification. 
Profitability and sustainable growth
In the last couple of weeks we have had our heads deep in spreadsheets making sure our plans for the next year work against the numbers.
Our primary approach throughout this process has remained the same as it has always been - building a profitable, independent agency composed of a close-knit team of experts with a sustainable approach to growth that has little or zero negative impact on our people, clients, society and environment.
On Final Reflection...
Much of this latter half of 2022 has been around "playing defence" and preparing ourselves to turn the tables with far more offensive plays next year. 
But we're now in a position where we're confident to approach 2023 with a fresh mindset, a highly-talented team of people and a solid plan that will firmly put Evoluted on the map amongst the best agencies in the UK.
It's an exciting new milestone to reach on our journey as a business, but amongst the busy-work we've never lost sight of what really matters.
To each and every person on the Evoluted team: you're all rockstars. The motivation and inspiration you bring to this company every day fills me with pride. The development of Evoluted as an agency is testament to your abilities. 
I'm grateful for the opportunity I've been given to work with you all, and for the clients we have who choose to call us partners.
Here's to a fantastic year ahead for all of you!
Merry Christmas and Happy New Year.
Giorgio, Sam, Gareth and Ash