Using External Data Tools To Add Value In PPC
As marketers, we all want to drive more value in our work, whether that's for your own business or for a client. When an unexpected change in performance occurs, being equipped with the skills to figure out the why, but to also be able to assess the wider landscape is super important. 
Working in PPC, we get used to using a lot of 'internal' data provided by Google Ads and Google Analytics. Whilst this can help us identify trends and figure out why account performance may have spiked, or dipped, sometimes it doesn't show us the whole picture.
When thinking about using external data, as a marketer you might initially dismiss this as something with value for only content/PR campaigns, which rely on data to craft engaging and interesting campaigns. However, there can be huge value in using external data for PPC too!
Leaning on a wider data set can help to provide more context on changes we see in our PPC accounts. It helps us to understand the results we're seeing on a deeper level, and allows us to communicate transparently with clients/stakeholders when discussing account performance. 
Especially when it comes to reporting, I've found being able to back up my thoughts or ideas on why certain things have happened with external data can be a good way to demonstrate knowledge of the industry and provide further insight. 
Additional data can even provide extra inspiration and help to inform account strategy going forward. 
In this blog, I'll be covering some of the external data tools that I use to find and provide further insights on my PPC accounts, and how to get the most value out of them.
Google Trends Supercharged - Glimpse
At the top of my list would be Google Trends Supercharged - Glimpse. A Google Chrome extension that bolts on to Google Trends, this tool takes Google Trends one step further. 
The extension allows you to inspect a search term's 'interest over time' with the help of a graph which highlights when interest for the term spiked, or declined. On top of this, you can also explore a search term's monthly search volume over time, what users are also searching for, topic maps, and trajectories on search term trends.  All this can give some highly valuable information to PPCers.
Here is an example of some of the data in Glimpse around the search term 'Mortgage Advisor':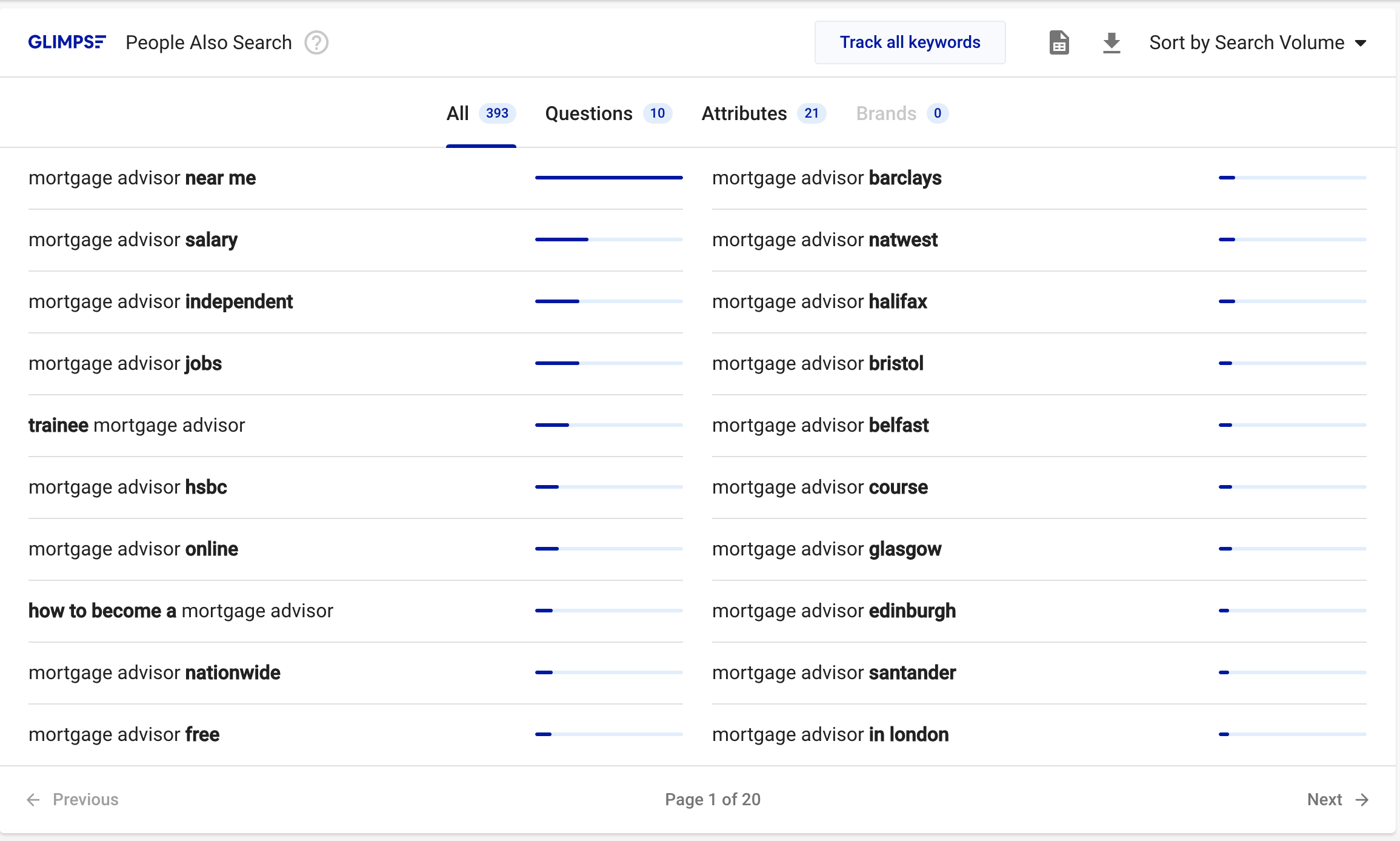 Whilst there are paid options for this tool, you can get 10 searches a month for free, but just be sure to use them carefully! 
The information Glimpse can provide can help in a number of ways. 
From backing up account trends you've noticed, to looking at historical search volume data and getting inspiration for keywords and other campaigns, Glimpse is a highly effective tool to depend upon.
Google Dataset Search
Google Dataset Search can also be a really useful tool to take advantage of. Initially targeted at researchers and data journalists, Google Dataset Search allows you to locate free online data on a range of topics. 
Finding data relevant to your account or client's account can help to provide wider context on the industry you/they operate in and can also help you offer context to explain any trends you may have seen. This can also provide reputable data to reference in reports.
Here is an example of data around mortgage approvals from October 1986 to December 2022, which could be useful to any property related businesses/clients. 
From this study we can see that there have been "the lowest level of approvals since the early stage of the pandemic in May 2020 and the weakest figure since January 2009, with Covid-19 onset and immediate post-period excluded, as rising borrowing costs, stubbornly high inflation, and a looming economic recession hit housing demand".
This could be a great bit of information to reference in a report, or even just to know about the industry on behalf of a client.
YouGov
This one may seem like an obvious choice, but working in PPC, it initially didn't cross my mind that I could use data from YouGov to help add value to my accounts. 
YouGov is a global public opinion and data company, which offers a range of free polling and survey results. With data across a wide range of industries, including politics, society, consumer, technology, entertainment, transport, and more, there is plenty of data to dig into. 
You can even search for specific data, if you know the type of thing you're after.
For example, we recently used a YouGov survey to highlight how consumer buying habits around purchasing clothing have changed during the cost of living crisis. 
Being able to back up our thoughts on why performance had changed with this survey really helped to strengthen what we were saying, and also provide reassurance in terms of any YoY performance changes.
YouGov poll or survey data can also highlight consumer behaviour/opinion, which can be key to deciding on the best strategy for your account going forward. 
For example, if users are buying less because of the cost of living crisis, could you focus on pushing more essential products? Lower priced products? Should you offer more incentives for users to buy, such as offers or free shipping? You may even find that it hasn't actually impacted sales at all, either way, being aware of any shifts or stagnation in consumer behaviour can only strengthen your strategy.
Similarweb

Similarweb is a data analysis tool, which I use in its Google Chrome extension form. It gives you an exclusive view into any website's performance, which can be great for data gathering.
It can also offer valuable insight into both your/your client's website, but also competitor sites, with data on things like:
Rankings

Traffic analysis

Country targeting

Audience demographics

Audience interests

Similar sites

Top marketing channels

Top keywords
Whilst the free version does have some limits, and some of the above data can be found in Google Analytics, it does offer some unique insights that are really easy to access. 
It provides particularly useful data when looking at competitor sites, especially as it gives you an idea on things like their top marketing channels, top organic keywords, top topics for their audience, and their overall traffic over the last few months. 
Here are some examples of the data you can see for ASOS.com: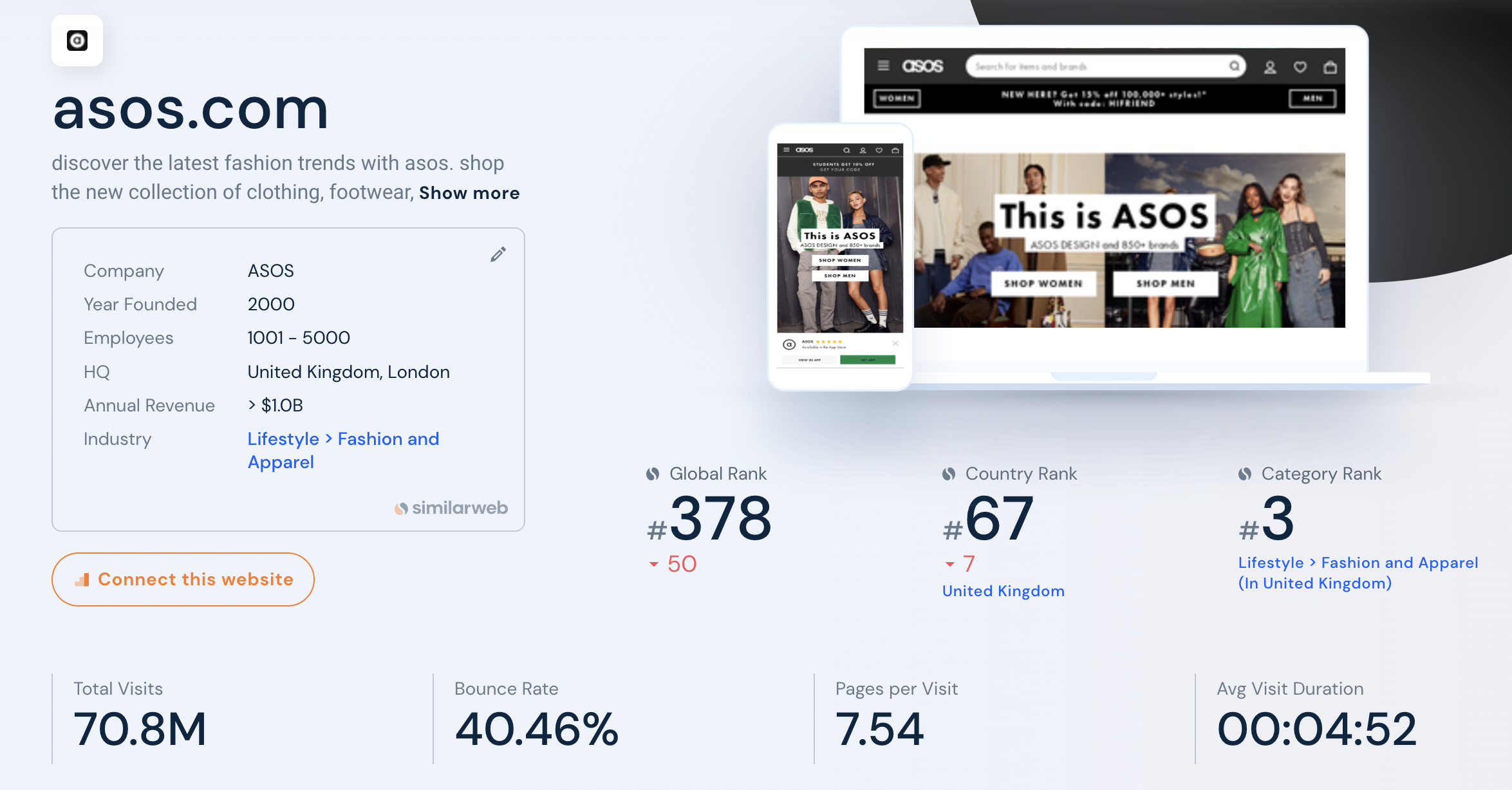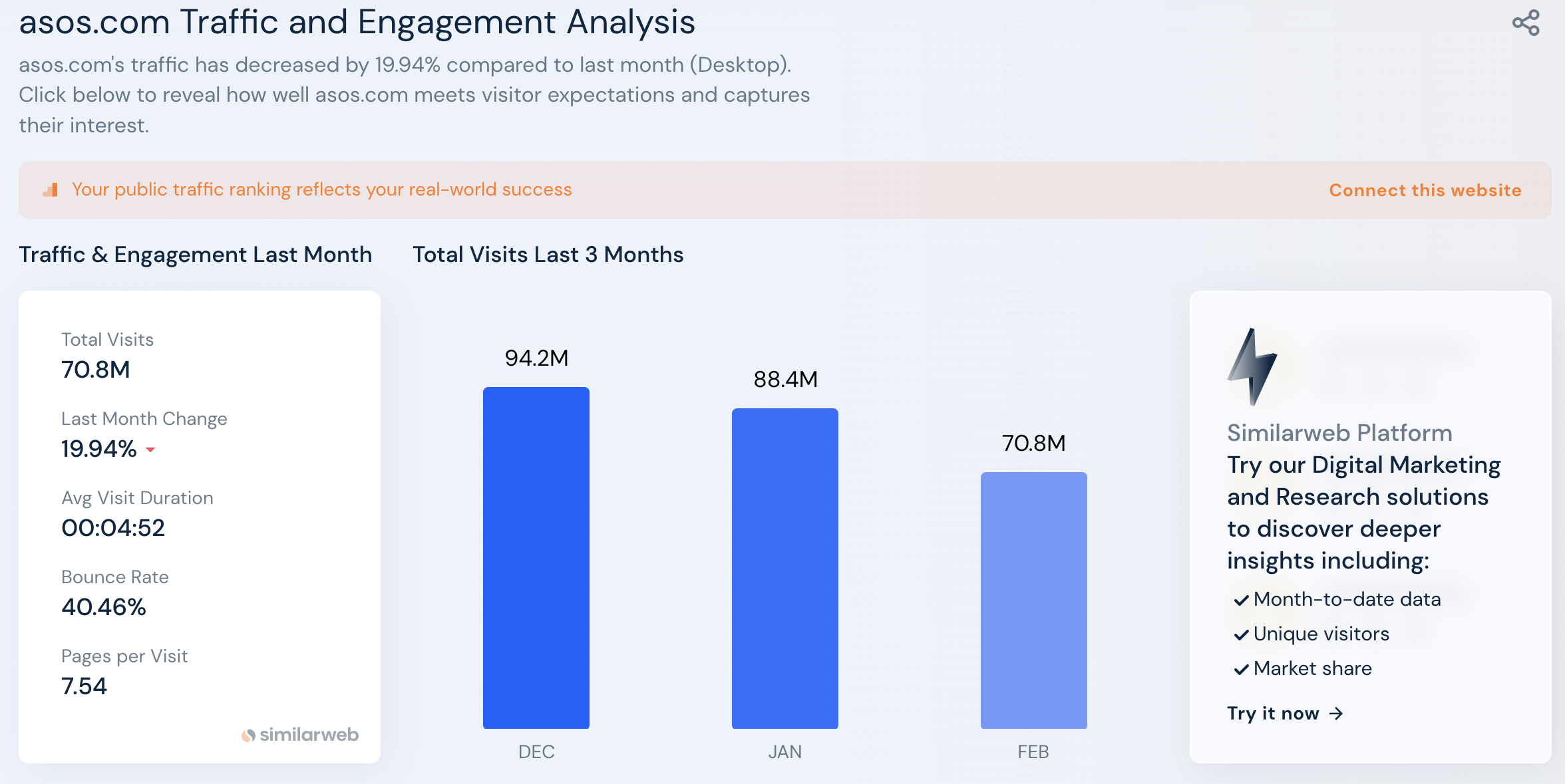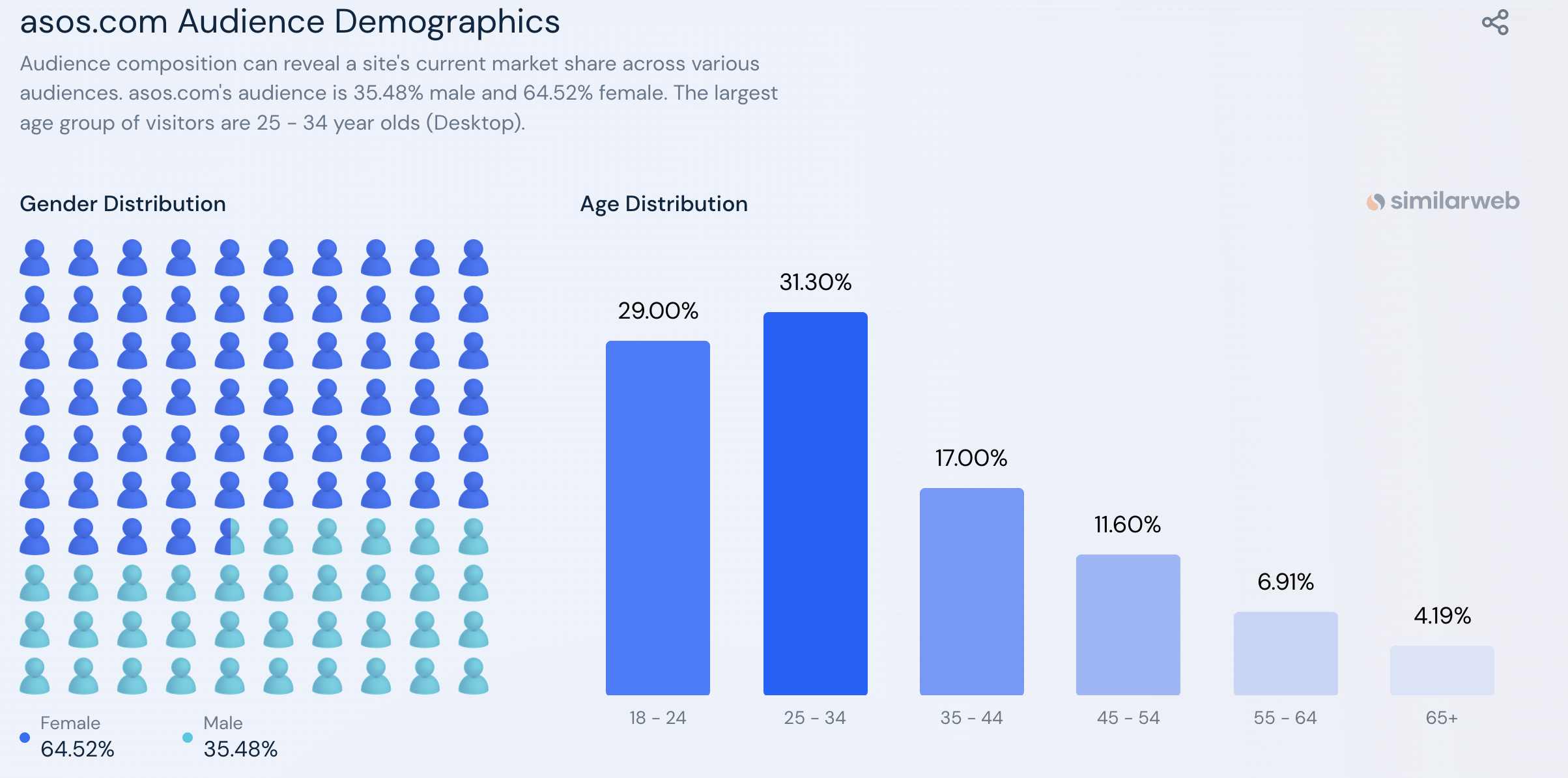 This information can be used to both compare your website, but also in your PPC account. 
For example, are there any top audience interests that could inspire a future campaign? Any organic keywords your competitors are seeing lots of traffic from that you could target with a paid ad? How have their website visits changed over the last three months? What is their current marketing share like? Data in Similarweb can help you find the answers!
Summing up
Hopefully the above has given you some inspiration on additional tools you can use to add value to your PPC accounts. 
The more data we can use to inform our decisions, the better decisions we can make for our accounts to help drive the best return on investment.
If you need expert support with your PPC, see our Paid Media services.