Why SEO Support is Crucial for Website Migrations
Any type of website migration carries risk, regardless of how straightforward it may seem on the surface. 
Utilising SEO services before a website migration begins means that potential risk can be assessed from the very beginning, allowing for effective planning that considers key SEO factors from the off.
Working with an experienced SEO team during (and beyond) a migration can help you to:
Understand the potential pitfalls and outline key tasks to mitigate the risk of visibility loss or errors.

Devise an improved site structure (if required) for better crawling and indexing.

Identify any URL changes and implement appropriate redirects, ensuring all pages are accessible for the launch and preventing users from landing on broken pages.

Identify any content gaps and make sure that these have been planned and accounted for.

Ensure your tracking continues seamlessly to prevent loss of data and/or new tracking is set up to monitor performance changes.
Types of migrations
Migrations can come in different forms and may have differing levels of potential impact where it's recommended to enlist SEO support. 
Possible reasons why a company may take the decision to migrate to a new website range from rebranding purposes to improving website functionality and/or security.
Some of the most common types of site migration include:
CMS changes
You may be upgrading your CMS to something that works better for your business. Every CMS has its own pros, cons and features so you should consider these carefully before making a change. Key areas to think about include things like URL structure, crawling and indexing handling and sitemap management.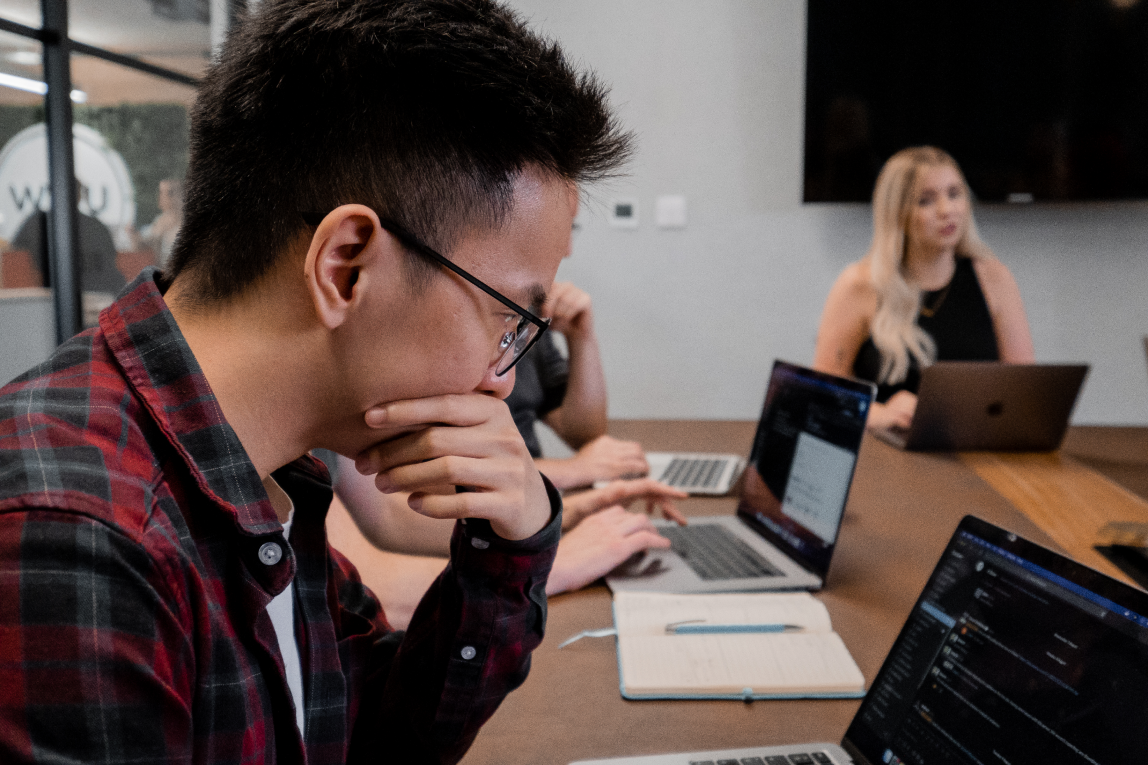 Domain changes
If you're updating your domain name to something new, this can have a significant impact on your organic visibility whilst Google processes the change. Generally, this type of migration is lower in risk as often the wider site structure will remain the same, but that doesn't mean that it's totally risk-free.

You'll need to set up domain-level redirects to help search engines pick up the change more quickly and avoid any visibility drops in the interim. You'll also need to remember to update your domain in Google Analytics, create and verify an updated Google Search Console account, submit an updated sitemap and so on.
Large-scale design & content changes
A significant design or content overhaul, for example to a sitewide template or UX changes, has the potential to impact your website's visibility on multiple levels.
From script changes for layout and styling purposes through to substantial content and html changes, there's potentially a lot of new information for Google to crawl, index, render and understand.
In addition to the logistics of any layout changes, decisions to merge or remove content should not be taken lightly and we'd always recommend considering the below before making a final decision:
Is the page ranking? If a page is both relevant and performing well, it's not always worth risking changes that could potentially upset the balance, however small they might be.

Does the page offer value? Traffic and value are very different. There's no point in keeping a page that is no longer relevant to your business just because it's generating traffic. But it's still important to assess how much traffic it is generating prior to removal so that this can be accounted for in your post-migration figures.

Are the existing pages similar in content? If you have a set of pages that are competing for the same search terms or cover similar topics, it can be beneficial to merge them to create a single, stronger version. This can reduce wasted crawl budget and help search engines to identify the best URL to rank for a particular query more easily.
Content changes are often necessary for all kinds of reasons, but if you can't pinpoint a clear purpose to your changes, they may not be worth proceeding with.
Site structure changes
A new site structure or URL changes gives search engines something new to consider. During this process, your visibility has the potential to slip whilst Google familiarises itself with your website's new URLs, internal linking structure and hierarchy. This risk can be reduced by carrying out tasks such as redirect mapping and sitemap management.
Hosting/server changes
Though not as common as other types of migration, occasionally it may be necessary to move servers. This is often done to improve technical aspects of site performance such as speed and efficiency during the page load process.
Possible reasons for changing server may include:
Slow server speeds

Server downtimes

Poor server security

Moving to a more local server (for example a UK-based site that's hosted in the US may migrate to a UK/Europe-based server to improve performance)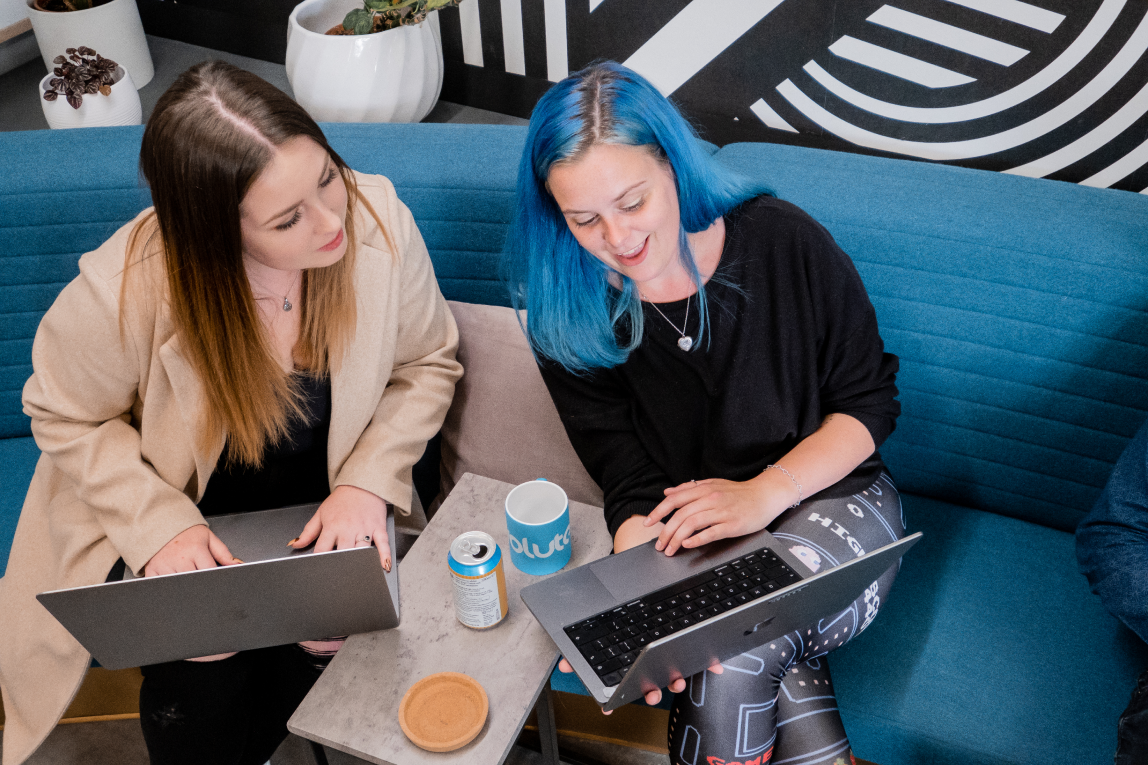 Migration considerations
Domain & prefix redirects
For efficient crawling and to avoid potential duplicate content issues, you should ensure all other versions of your domain redirect to the primary version. This means:
Obtaining a valid SSL certificate and redirecting all http URLs to the corresponding https version

Ensuring any non-www. URLs redirect to the corresponding www. version or vice versa.
URL redirects
Where URL changes occur, you'll need to map and implement appropriate 301 redirects from the old URL to the new one. This ensures both search engines and users are redirected appropriately, preventing either from accessing broken pages.
For users, a lack of redirects can result in a poor user experience and the loss of potential customers. For search engines, redirects essentially act as a set of directions between the two URLs. Failure to implement sit can result in significant drops in visibility.
Metadata & header tags
A key SEO factor, metadata and heading tags can often be overlooked during the data import process.
Meta title tags and H1 tags play a key role in communicating the topic of a page and targeting 'core' search terms, while additional header tags such as H2s and H3s help search engines to understand content structure. Meta descriptions are important as they allow you to offer additional information which can help to encourage click-through rates.
Cumulatively, these elements not only increase your chances of ranking for a greater number of relevant search queries, but also impact a site's appearance within those search results.
Internal linking updates
Internal links are a key factor in helping search engines to understand the relationship between anchor text and the target URL, but internal links to redirected URLs add an extra step for search engines to navigate when crawling your site. Where URL changes occur as a result of a migration, it's a good idea to run through your internal linking profile and update your target URLs to help streamline the crawl process.
Crawling & indexing directives
Search engines should be able to efficiently crawl and index pages that we want to appear in search, and purposefully not crawl or index pages that shouldn't. To help search engines understand and respect which pages should and shouldn't be indexed, we need to review the index tags on each page, as well as making sure the robots.txt file is formatted correctly.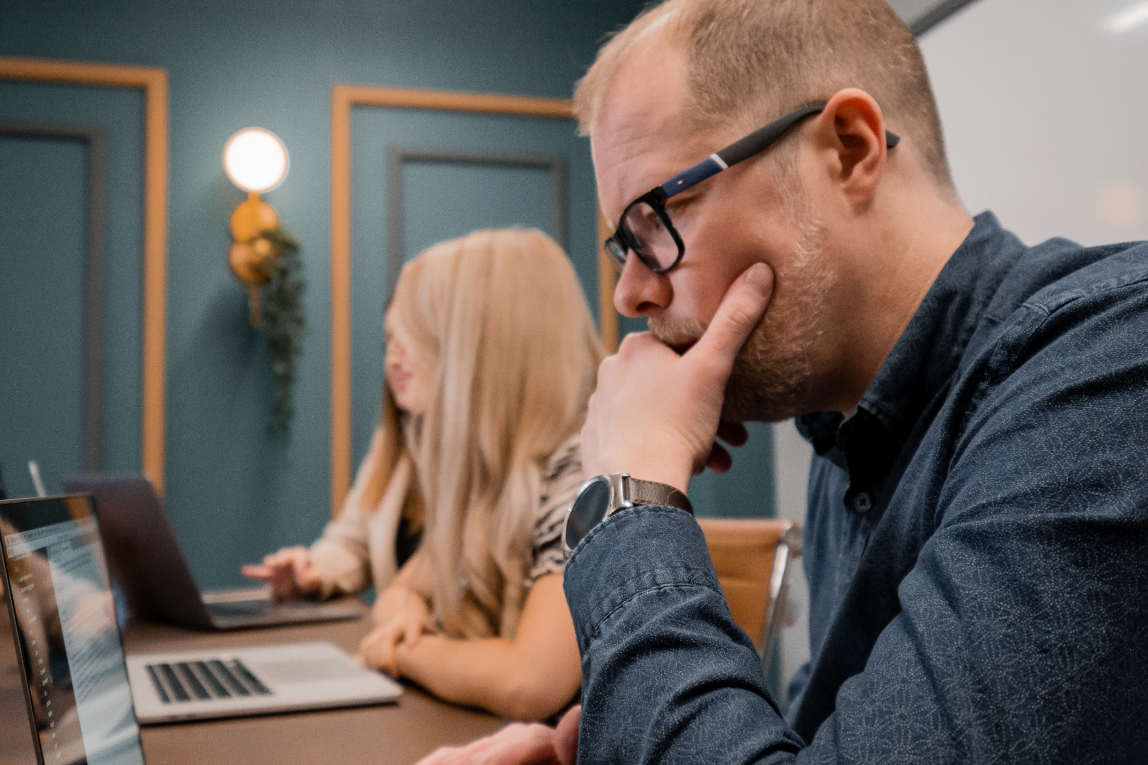 XML sitemap updates
Search engines use your sitemaps to discover your URLs and understand when they were last updated. They should not include redirected, non-indexable or removed URLs, so you'll need to generate an updated XML sitemap following any changes. If your sitemap URL changes you'll need to resubmit your XML sitemap via Google Search Console and delete the old version.
Site speed
Google favours sites that provide a fast, stable and secure loading experience. As touched upon earlier, significant changes to your website will require a lot of code and script changes too, so you'll want to review your site speed and core web vitals performance before migrating to give you the chance to make improvements where possible.
Tracking & conversions data
To accurately measure the impact of the migration any Google tracking code will need to be carried over to the new site. Without this, you'll lose access to the wide range of data insights provided by useful tools like Analytics and Search Console. This is also a good opportunity to revisit any previous conversion tracking and make any changes if your business goals have changed.
Benchmarking & post-migration monitoring
Although most of this data will still be available via your tracking providers after you've migrated, it can be useful to review and export your current rankings and traffic figures beforehand so that you have a good idea of your current visibility levels before the switchover. While short-term drops are common following a migration, doing this will make it easier to spot any abnormalities in your data that may need to be investigated in more detail.
Efficiency of implementation
Clear, ongoing communication between SEOs and developers is a vital cog in any successful migration. We'd encourage regular check-ins between the two teams throughout the process.
Our process for SEO migrations
Our experienced migration consultants implement a four-phase approach to SEO migrations, each with its own set of considerations.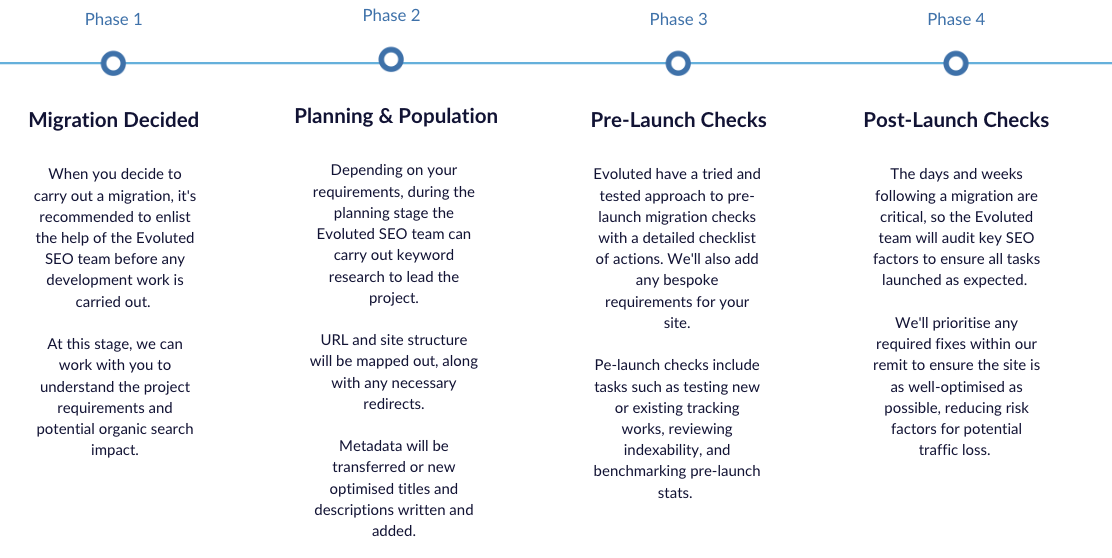 Evoluted's SEO migration checklist
Our team works from a proven checklist to ensure a smooth migration, tackling potential obstacles that could impact traffic before launch and closely monitoring any visibility and traffic changes after your new site launches.
Whilst this is a standard checklist to consider the main tasks in any migration, we'll also look to add bespoke points to this checklist upon our understanding of your particular migration requirements. 
These are just some of the pre and post-migration tasks our team will carry out for you.
Pre-launch
Confirm domain or URL changes

Access to Google Search Console

Access to current Google Analytics

Review existing traffic levels

Export top pages' organic traffic

Check for existing disavow file

Transfer to new GSC if necessary

Identify target keywords for tracking

Ensure content + metadata transfers

Check header tags

Map current site URLs to new URLs

Update internal linking to new URLs
Post-launch
Implement redirects

Check sitewide rewrite rules

Ensure alias domain redirects in

Ensure GA code was transferred

Review 404 page + status code

Robots.txt file check

XML Sitemap created

Submit via Search Console

Include in robots.txt

Avoid unwanted 'noindex' tags

'Change of Address' in GSC

Monitor visibility of key search terms

Monitor traffic vs benchmark
Common migration pitfalls
Missed redirects
Missed redirects can often result in frustrated customers, visibility issues and lost revenue, not to mention an abundance of 404s. Yuck.
Content removal
It's a lot easier to lose visibility than it is to regain it. Content changes or removal are necessary occasionally but don't jump the gun.
Loss of tracking
A simple but common mistake is to migrate without adding the relevant tracking code to the site, which causes irreversible data gaps for the duration that the relevant scripts are missing.
Non-transfer of title tags/H1 tags
A page's H1 title (on-page title) and meta title tag (title in search results) communicate its core offering, but these elements are also important from a keyword targeting perspective and are often missed when transferring important content over to the new site.
Migration case study: Vitripiazza
Vitripiazza is a luxury vitrified porcelain paving supplier who chose to work with Evoluted on the design and development of new and existing websites within their portfolio (Talasey). 
Prior to the migration launch in May 2021, the Evoluted SEO team carried out keyword research and benchmarking analysis to understand where improvements could be made and what elements should be maintained. 
The site launched with new areas of the site as well as maintaining existing optimisations. This enabled Vitripiazza to be found online for a wider variety of searches by different types of users.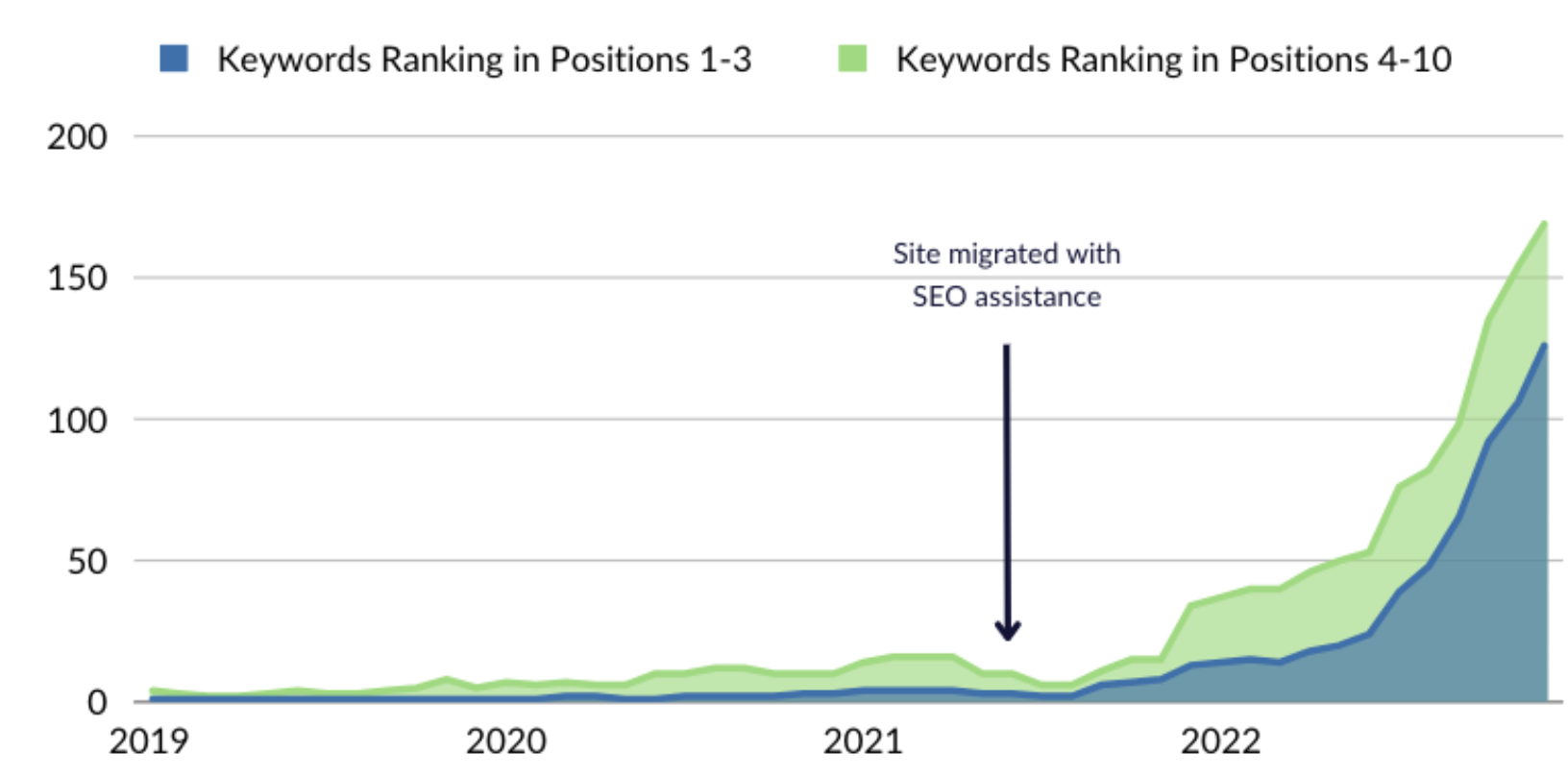 On the flip side, here's another website we dealt with that failed to implement any SEO recommendations prior to migrating in late 2022; keyword and organic traffic performance fell off a cliff post-migration and undid almost a year of consistent progress.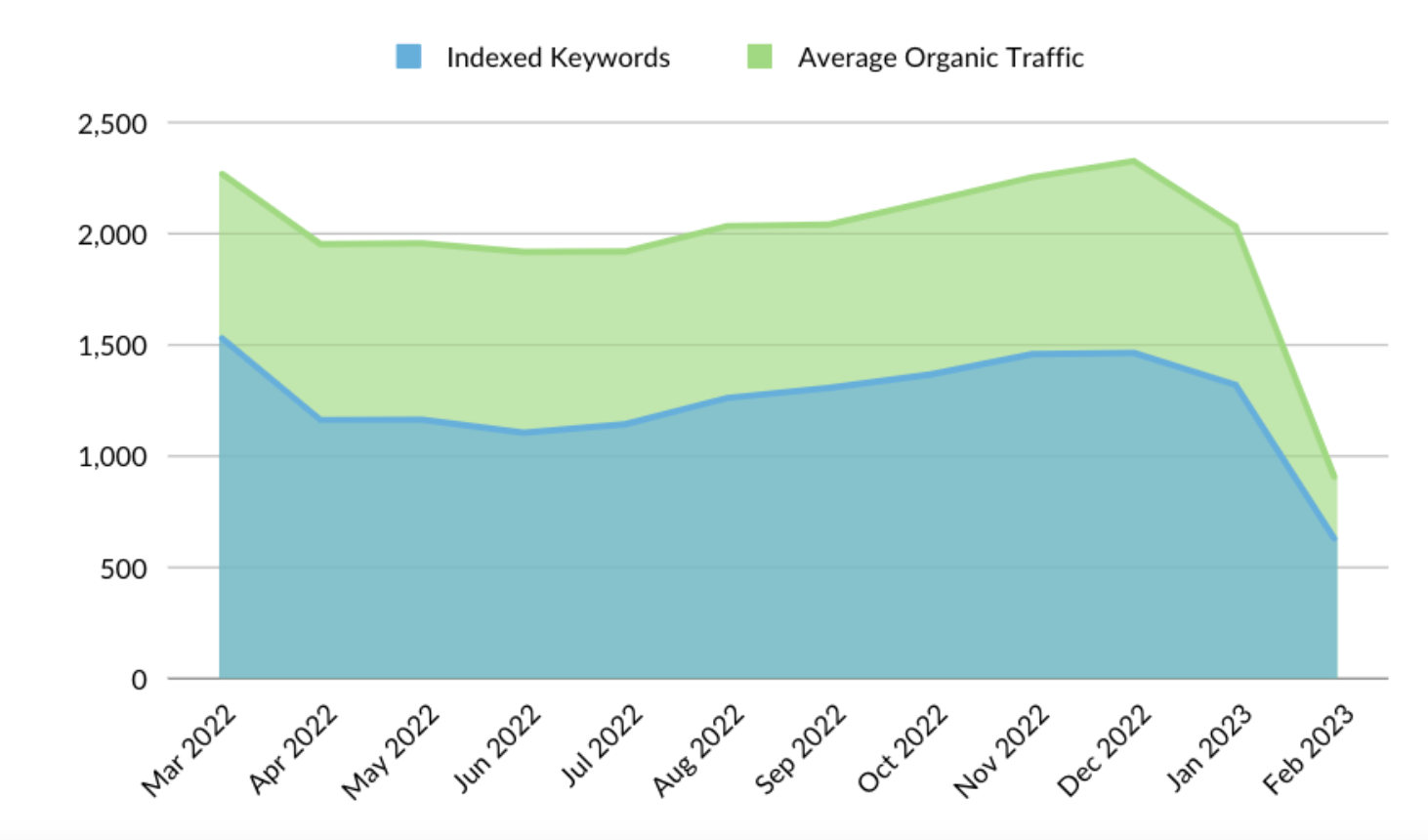 Planning a migration?
At Evoluted our team are experienced in delivering website migrations in a variety of scenarios. See our Grow services to learn more about our SEO expertise, or get in touch for a no-obligations chat to see how we can help your business.