Doordeals
Doordeals is one of the UK's leading independent door retailers with a focus on delivering high-quality doors regardless of budget, with a diverse collection of custom and standard options.
As an SEO client, Doordeals enlisted the help of Evoluted's paid media team to help realise their ROAS targets, optimise ad campaigns and maintain healthy sales. 
Experiencing record sales and conversions during the pandemic home improvement boom, as the world re-opened, Doordeals were keen to harness these lockdown figures in a post-lockdown climate. Cue our paid media team, challenged with maintaining a ROAS of 15.00, in one of the most turbulent economic times in recent history. 
Spoiler alert: We did it.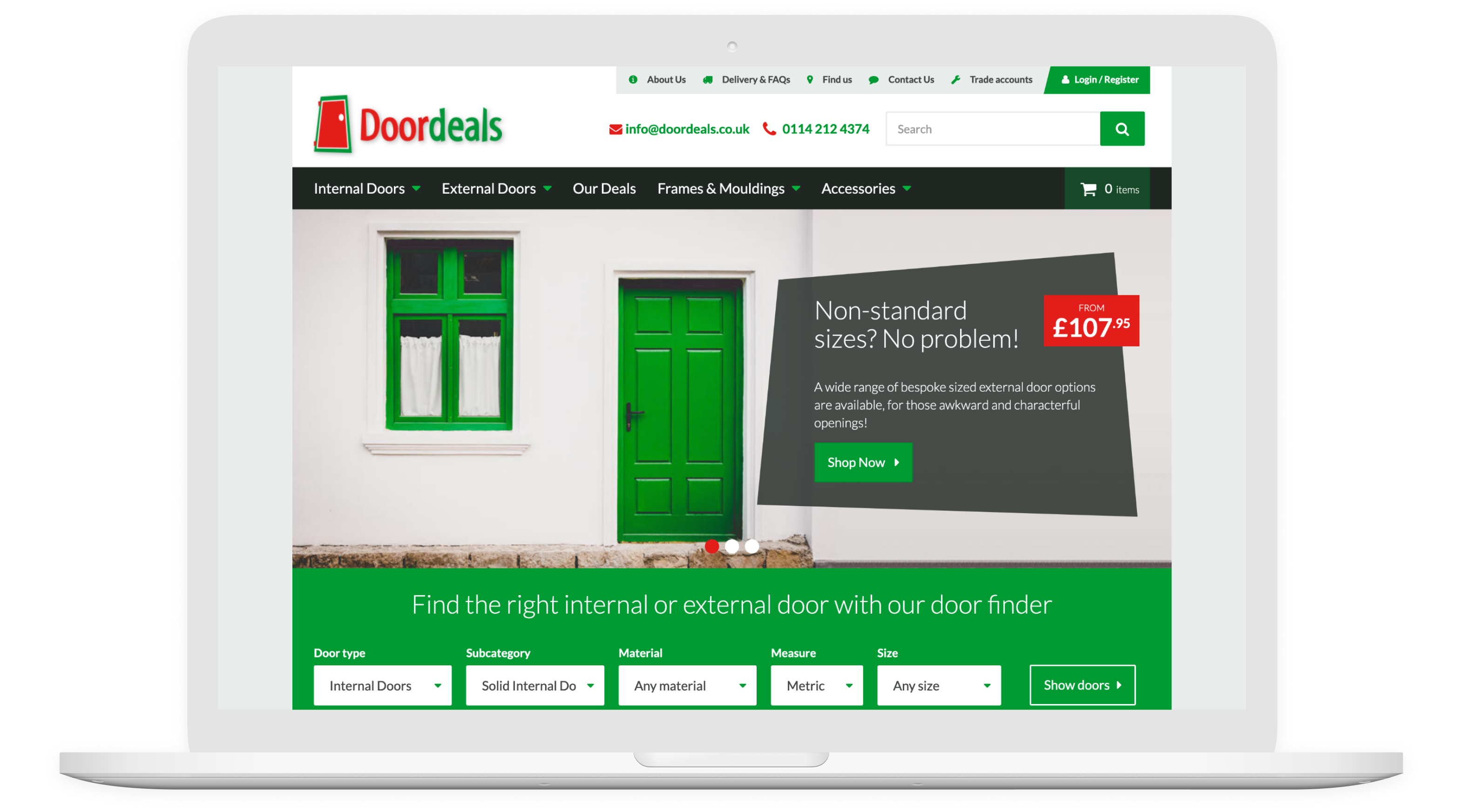 The Strategy
We refreshed Doordeals' approach to paid advertising, adopting Google's latest campaign type, Performance Max. This all in one campaign helped boost Doordeals visibility and revenue, reaching and targeting more customers across the Google ecosystem with one campaign.
Collaborating with their internal team, we assessed performance data to inform the choice of headlines, USPs and ad copy used to form each ad. We also streamlined and optimised their product feed, providing Google with the most accurate information about each product, while hitting key points for users seeing the ads.
Bolstering our efforts with Performance Max, we also created a Standard Shopping campaign that fulfilled our team's two key functions. Firstly, this campaign acted as a safety net for the performance max campaign, maximising the shopping traffic captured throughout. Secondly, serving as an analytical tool for our team, allowing us to monitor and isolate any products performing poorly in the Performance Max campaign, bridging the gaps and maximising efficiency.
Results
16%

increase in sales conversion rate
Performance Max
Refreshing former ad campaigns with a comprehensive approach not only gave Doordeals the advantage of the Google ecosystem and all customers within it, but also futureproofed their approach to campaigns.
Google's latest campaign type, Performance Max will slowly phase out traditional campaigns meaning early adoption and mastery set Doordeals up for a smooth transition with a library of assets ready to go.
As a campaign type that uses the entire Google ecosystem, a range of assets needed to be produced to reflect the products as envisioned. Performance Max utilises image and video assets across different ad types within each campaign. If not produced, Google with autocreate these assets meaning campaigns may run with poor quality assets as their only assets. Our team streamlined this process, futureproofing the asset library and creating ads that captured the product and the brand exactly as Doordeals envisioned.
Product Feed Optimisation
Optimising Doordeals' product feed provided a layer of ease for both Google and its users.
A feed featuring strong and substantial content including optimised product categories, GTINs, and product titles gave Google the information it needed to read and understand each campaign or ad and translate this where it mattered most, to the end user.
Product feed optimisation is one of the strongest ways to improve control over ad campaigns, consisting of meticulous groundwork that holds it value over time making effective campaigns easier.