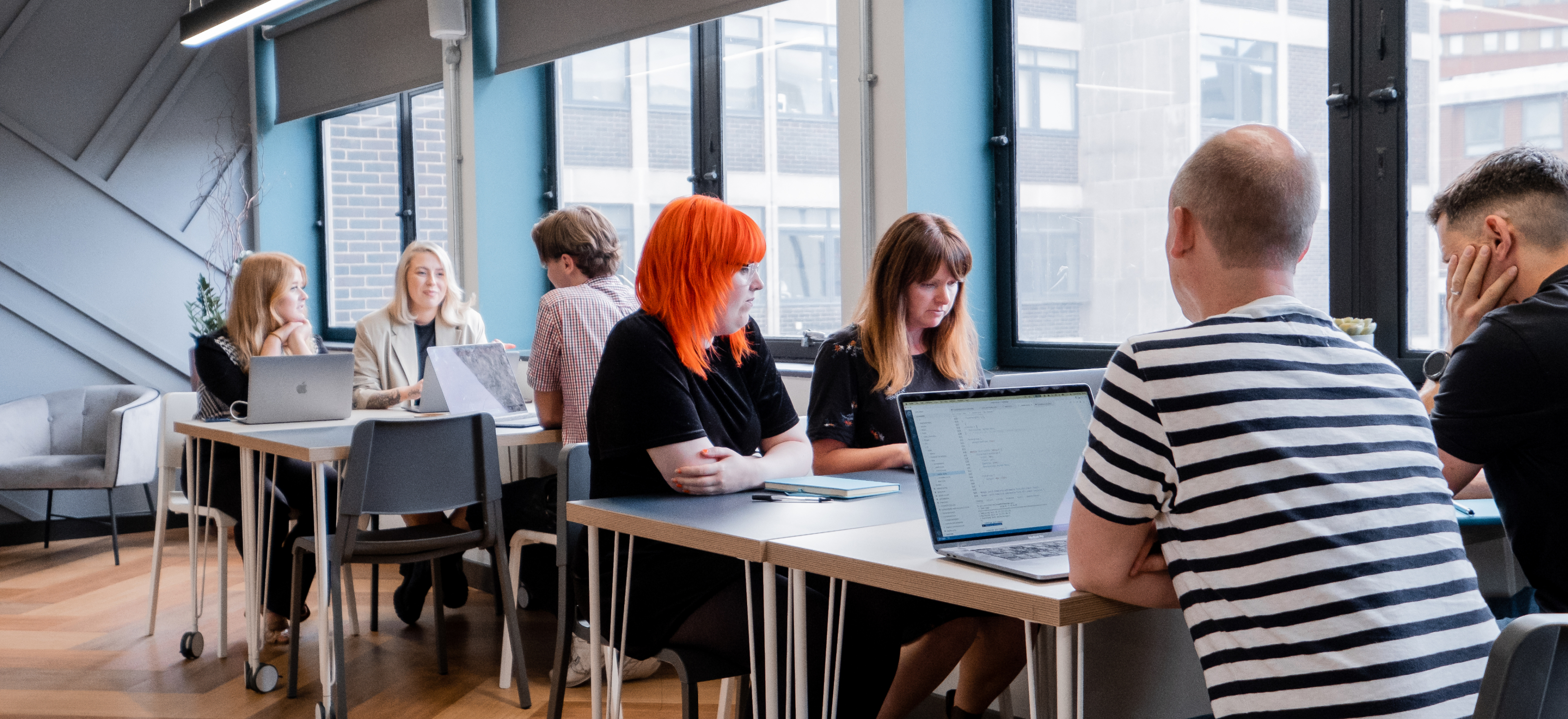 Careers
Get paid to do the work you love
Culture isn't what you say, it's what you do. And that's why we're people-first, always. We put huge emphasis on human connections and bringing your true self to work, taking pride in developing a culture built on collaboration, inclusivity and work/life balance.
There's a lot more to working at Evoluted than pretty websites and clever marketing, so read on to learn more about our careers, benefits and working life.
View our Careers
Find your next opportunity at Evoluted
We're always on the lookout for inquisitive, excitable, passionate individuals capable of thriving in an evolving digital world.
Whether you're an industry leader or just taking the first steps towards a fulfilling career, we look to attract the best talent who connect with our values and share the growth mindset that can help both us and our clients succeed.
In turn, Evoluted are committed to providing a growing range of benefits and perks that aim to help you get more enjoyment from life, that help you learn, develop and advance your career, and which take care of you when times get tough.
Our people make Evoluted. With a team forged from countless different backgrounds, experiences and industries, we're firm believers that diversity truly enriches Evoluted and the work we deliver. We're proud to be an Equal Opportunities Employer and we're dedicated to maintaining a diverse and inclusive workplace where everyone is treated equally and fairly.
With a dedicated Diversity & Inclusion Officer in-post at all times, we're committed to continually refining our processes to make Evoluted the best possible place to work for everyone.
If you feel you'd like to be part of our growing team, apply for one of our open opportunities. Got skills but can't find a relevant vacancy? Drop an email to recruitment@evoluted.net with details of what you're looking for and we'll be in touch.
Fully Hybrid Working

We offer a 100% hybrid working environment - whether you work from home, our Sheffield HQ or anything in between. So whether you just wanna sit in your PJs and get your head down or drop by the office for a more social working environment, it's totally up to you!

Flexi-Time

We know that everyone's lives are a little bit different and we all have our own commitments away from work. Our flexi-time policy means you can work anytime between 7am and 7pm, leaving plenty of time for appointments, school runs, workouts, siestas or whatever else might come up!

Fully Equipped Office

Our HQ in Sheffield is fully kitted out with everything you need when you don't feel like working from home. Free parking, hot-desking, meeting spaces, a state-of-the-art Jura coffee machine, regular deliveries of healthy (and sometimes naughty) snacks, and more.

Work Abroad

Work abroad for up to 5 days at a time, allowing for more efficient use of your annual leave for longer trips, supporting visits to see family and friends overseas, or whatever else might crop up - you just need access to a stable internet connection.
Profit Share Scheme

20% of Evoluted's profit from client-related work is shared equally amongst the whole team every year in December's payroll. We love being able to share the rewards from our company's success with our team, providing a well-deserved end of year bonus as a thankyou for your commitment and hard work.

Career Development Support

We all want to know what the next step in our career looks like and more importantly, how we can get there. That's why we built our own bespoke performance management tool combining clear skill-based progression pathways with qualitative appraisals to get a 360-view of your personal development.

Training & Education

Learning never stops, no matter your age or experience, so we provide expensed conference trips, in-house lunch & learn sessions, external training specialists, courses, books and more. We don't believe in pre-defined "personal training budgets" and instead use bi-annual OKRs and regular 1:1s to create personalised development plans.

Transparent Salary Bands

We provide transparent, regularly reviewed salary bands so you'll always know what the reward is for your achievements and that you're in line with both your peers and the wider industry. This is tied into our performance management framework so you can celebrate continuous development as well as the big leaps.
Annual Leave & Sick Pay

Taking regular time off from work is essential for preventing stress and burnout, so we give everyone 25 days of paid annual leave annually (plus bank holidays), rising by an additional day per year of service to a maximum of 30 days, plus 10 days of fully-paid sick leave.

Enhanced Family Policies

As part of our commitment to our people, Evoluted offers generous benefits and paid time off for expecting parents, providing extra financial support on top of statutory pay, of up to 28 weeks of paid maternity leave and 4 weeks' paternity leave for people starting or growing their families.

Mental Health Support

With a shift in awareness and a rise in mental health support requirements, more people than ever are talking about their mental health and wellbeing at work. Evoluted have contracted Sanctus to provide trained mental health coaches who are available every month to anyone who would like a safe space to talk.

Cultural Roles

Company culture isn't driven from the top-down - it's something that develops and grows naturally. That's why we introduced our Cultural Roles covering Diversity & Inclusion, Wellbeing, CSR and Social Events. These roles can be held by anyone at Evoluted to develop our culture, introduce new initiatives and make our company an even better place to work.
Why Evoluted is your next great career move
We've made it our mission to be an agency that cares, making sure you feel trusted, acknowledged and supported to succeed both personally and professionally.
But don't just take our word for it, watch the video below to find out what our team really thinks about life at Evoluted.
Evoluted was my first professional role out of University. I remember being instantly impressed with the company website, which set Evoluted apart from the competition. Fast-forward over a decade and I left the company with a wealth of experience to pursue my freelance career. During my time at Evoluted I worked on an untold number of fascinating projects with an incredible team. Many laughs were shared along the way and I've made some truly great friends to boot.
I joined Evoluted in 2020 after hearing wonderful things about the culture and progression opportunities. I had the pleasure of working with an extremely talented marketing team and worked on some really cool digital PR campaigns. Evoluted helped me recognise my love for creative content marketing, and develop my confidence as a marketer.
Evoluted are an agency who I've been really impressed with for a long time. They do some great things from a people and culture perspective, and place a big emphasis on career development.