OriGym
OriGym is a leading provider of personal training, diet and nutrition courses, advocating safe and inclusive health and fitness regimes.
As an existing SEO client, our digital PR team was tasked with improving OriGym's link profile and generate brand awareness with highly-relevant content campaigns and reactive PR.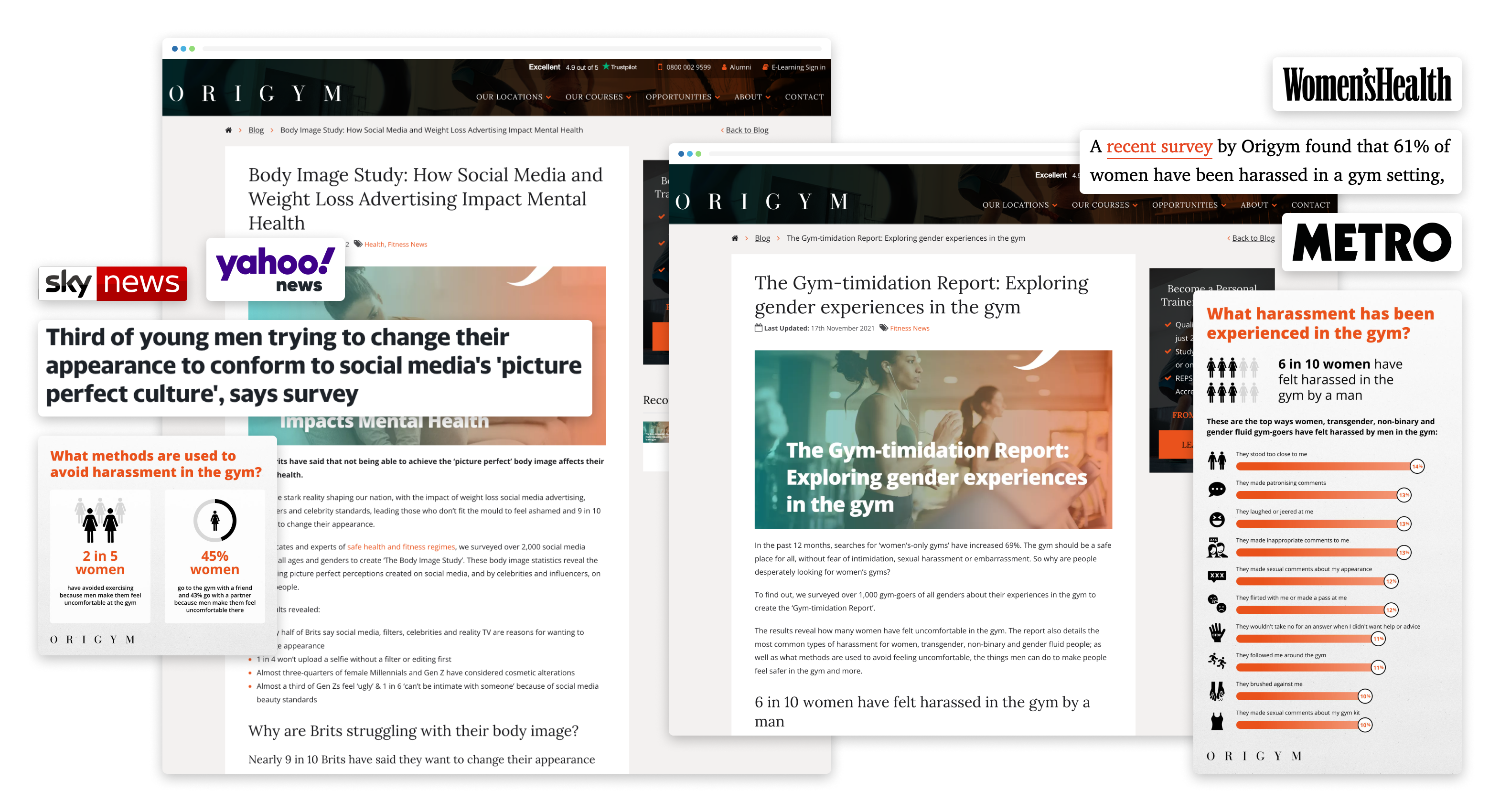 The Strategy
In the past, OriGym had been subject to a manual penalty from Google for low-quality backlinks. Although we were also undertaking a successful SEO strategy to boost rankings and traffic, our team knew that links were important to regain the site's trust.
We created a digital PR strategy that gained valuable links and coverage for OriGym, from relevant industry publications and leading national news websites, including Health & Wellbeing, Huffington Post and Stylist, while also raising awareness for socially important topics in the health and fitness industry. 
Our strategy consisted of large, quarterly content campaigns including reports that tackle social issues in the health and fitness industry, further solidifying OriGym as an advocate of safe and inclusive experiences. This was supported by consistent monthly outreach efforts that included expert commentary and reactive PR.
Results
123

counted links (224+ in total)
The Gymtimidation Report
After seeing that searches for 'women's-only gyms' had increased by 69% in the 12-months prior to the campaign, we decided to investigate what could be causing the surge.
We analysed social media platforms like TikTok to see what was being discussed, discovering that content around women's-only gyms and gym intimidation are commonly shared on the platform.
To understand the bigger picture, we commissioned a nationwide survey to create The Gymtimidation Report. This generated key data for our report including 6 in 10 women have felt harassed in the gym by a man, and 1 in 3 women want women's-only gyms so they can feel safer.
Our well-planned outreach strategy targeted journalists reporting on women's issues and fitness, and broader lifestyle and national writers, and we built 16 links and coverage from target publications including OK, Closer, Women's Running and Stylist.
The Body Image Report
Our report on negative body image and the impacts of social media was our second social awareness campaign. As the topic was one that was hotly discussed both in the news and online, we knew it would be a poignant study to research. 
By featuring a well-known body positive influencer, commissioning a nationwide survey and utilising our own research we were able to reveal some worrying stats and social media analysis. We split our research into smaller, newsworthy angles and tailored these stories specifically to publications and journalists. This included stats such as 9 in 10 Brits have said they want to change their appearance and over 40% of men want to build muscle & 1 in 10 want steroids.
This campaign has gained coverage from Sky News, Body Dysmorphic Disorder Foundation, Apple News, Metro, The Sun, Daily Mail and several national radio stations, among many other outlets. It also received the attention of the Government, with our client receiving an invitation to the House of Commons to discuss the issues raised in the study.
Expert Comments and Reactive Outreach
Alongside our content work, we implemented a consistent monthly outreach strategy made up of 2 - 3 pre-planned and reactive stories. This tactic maintained a steady stream of links from publications including Metro, Express and Telegraph and Muscle & Health, whilst we prepared larger campaigns.